In prior posts, I presented photographs from German Luftgaukommando Reports – in the United States National Archives – concerning a P-51D Mustang fighter, and, a B-17G Flying Fortress, which were lost in combat missions over Germany in late 1944.  For the former, a series of technical intelligence photographs taken by the Germans upon recovery of the crash-landed fighter.  For the latter, a remarkable "in-plane" / "in-flight" photograph carried by and captured from one of the B-17's crewmen.
This post – covering another Luftgaukommando Report – is a little different, for it shows a find of a different sort:  An intact and complete Air Corps Navigator's Log retrieved from a crash-landed Flying Fortress, which has survived in much the same condition as when the last notations were recorded upon it a little over 72 years ago.
The story behind the Log?
It began at 8:03 A.M. on Tuesday, December 26, 1944, when B-17G 44-6337, Kandy, of the 32nd Bomb Squadron, 301st Bomb group, piloted by 1 Lt. Harry Owen Filer, departed for a mission to the oil refinery complex at Blechhammer South, Germany.

Missing Air Crew Report 10746 carries three accounts of the plane's disappearance.
     1 Lt. Charles A. Dews, navigator, reported, "Right after bombs away, Plane No. 6337 started falling back from formation.  Number 3 or 4 engine had been hit by enemy flak.  My pilot reported that it was losing altitude and that either smoke or gas vapor was coming from 3 or 4 engine.  Just before we rallied at Ciezyn we lost sight of 6337 who was lagging back and losing altitude but under control.  We last saw Plane No. 6337 at 1250 hours, 26 December, 1944, location of 50/01 N – 18/27 E.  The weather was CAVU and no chutes were seen.
     Another navigator, 2 Lt. Joseph I. Laird, recounted, "Just after we dropped our bombs on the target, I noticed #4 engine smoking on Plane No. 6337.  The plane peeled out of formation taking a heading of 45 degrees and slid down to the left smoothly, losing altitude but under control.  The #4 engine was probably hit by flak over the target.  The plane dropped back from the formation but was still under control when I last saw it at 1250 hours, 26 December, 1844.  It was at 50/01 N – 18/27 E, the weather was CAVU and no chutes were seen.
     Tail gunner S/Sgt. Harry P. Hale described the following: "Shortly after bombs away, Plane No. 6337 fell out of formation, losing altitude and dropping back.  Smoke was coming from either No. 3 or 4 engine which was apparently hit by flak encountered over target.  The plane seemed to be under control when I last saw it at 1250 hours, 26 December, 1944, and saw no one bail out.  The weather was CAVU and our Navigator gave the coordinates of 50/01 N – 18/27 E when I last reported seeing aircraft No. 6337.
As in many Missing Air Crew Reports, eyewitness statements account for the plane's loss only up to the time it disappeared.  But, as in (also) many other Missing Air Crew Reports, an explanation of the plane's loss is presented in postwar Casualty Questionnaires.  In Kandy's case, these were filed by pilot Harry Filer, navigator Gilbert Nesch, and radio operator Earle Cochrane.   
The following is a summary of information in the Questionnaires:  The plane was struck by flak, and left formation while southeast of the target, shortly after 12 noon.  Not long after, Kandy was crash-landed near Krakow, Poland.  The entire crew survived uninjured and were captured, all returning to the United States after the war's end.
Some decades later, co-pilot Alfred Cryer's brief account of the plane's loss has now appeared at the website of the 301st Bomb Group, under the heading "My First Mission", giving the story of the plane's loss "from the cockpit":
The crew that I was flying with, the day I was shot down, was not my crew.  It was my first mission and I guess it was a crew made up from the pool.  The reason we came down near Krakow, Poland was we were heading to a field in Russia.  On the second bomb run on the target our ship and the lead ship were hit by anti-aircraft fire.  We took hits in the number two and number four engines.  Orders were if you were not able to make it back to Italy, you could try for this field in Russia.  Our navigator told us when we should be able to see the field, after making a couple of circles and not seeing a field we decided a wheels up crash-landing was the way to go.  Only it was occupied Poland, about 35 miles from the front lines.
The names of the crew, their next of kin, and their wartime home addresses – derived from information in the MACR, and the Luftgaukommando Report – follow below:
Pilot: 1 Lt. Harry Owen Filer
Mrs. Alice B. Filer (wife), 510 NE 56th St., Miami, Fl.

Co-Pilot: 2 Lt. Alfred James Cryer (Born in Illinois, in 1922)
Mrs. Gladys M. Cryer (wife), 141 South Prairie St., Batavia, Il.

Navigator: 2 Lt. Gilbert Theodore Nesch (Born December 6, 1917)
Mr. Frank F. Nesch (father), 1105 Yout St., Racine, Wi.

Togglier: T/Sgt. William Eugene Nassif (Born April 2, 1922)
Mr. Otto Nassif (father), 613 40th Avenue North, Fargo, N.D.
Mrs. Bessie Nassif (mother), Pollock, S.D.

Flight Engineer: T/Sgt. Ernest Mario Anticola (Born 1921)
Mr. Natale Anticola (father), 564 Hopkins St., Buffalo, N.Y.

Radio Operator: T/Sgt. Earle James Cochrane
Mrs. Kathleen G. Cochrane (wife)
Mrs. Blanche E. Haislip (mother), 49 Oak Ridge Ave., Schoolfield, Va.

Gunner (Ball Turret): S/Sgt. Edward Anthony Codo (Born June 30, 1925)
Mr. Edward C. Codo (father), 213 Sherman St., Joliet, Il.

Gunner (Waist): S/Sgt. Philip Shlom (Born 1922)
Mrs. Marion V. Shlom (wife), 3435 Richton St., Apt. 112, Detroit, Mi.
Mrs. Libby Shlom (mother), 2017 Clairmount Ave., Detroit, Mi.

Gunner (Waist): S/Sgt. Franklin Junior Elmen (Born 1915)
Mrs. Hazel B. Elmen (wife), 1112 Spruce St., Leavenworth, Ks.
Mr. Walter F. Elmen (father), 1315 South State St., Salt Lake City, Ut.

Gunner (Tail): S/Sgt. Patrick Marvin Nicks (Born 1925)
Mrs. Margurite Goeden (mother), South 523 Washington St., Spokane, Wa.
Here are some pages from the MACR for 44-6337: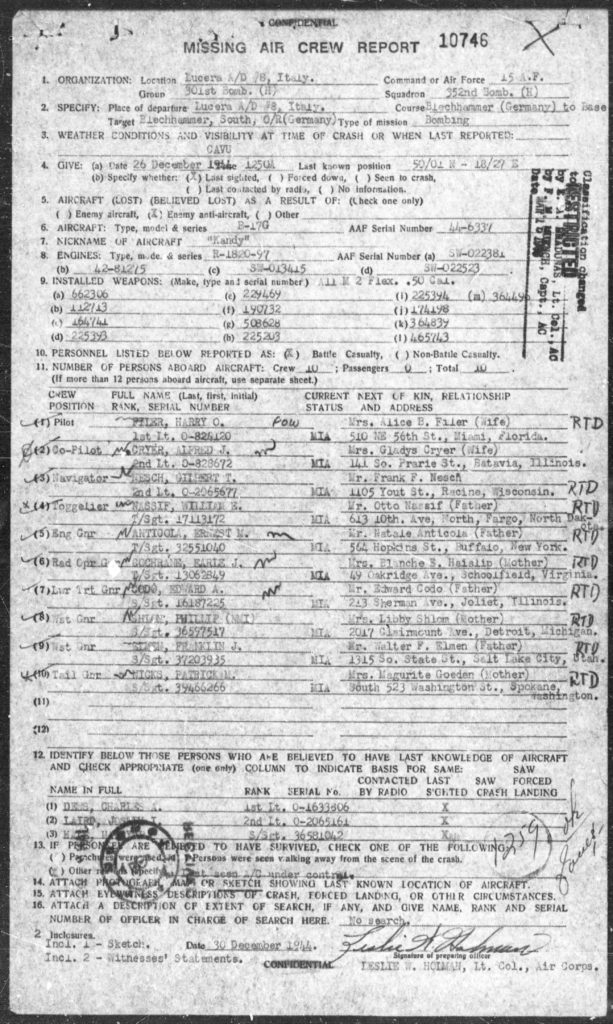 First page of MACR 10746, with information about the crew and plane, and summary of data about the circumstances of its loss.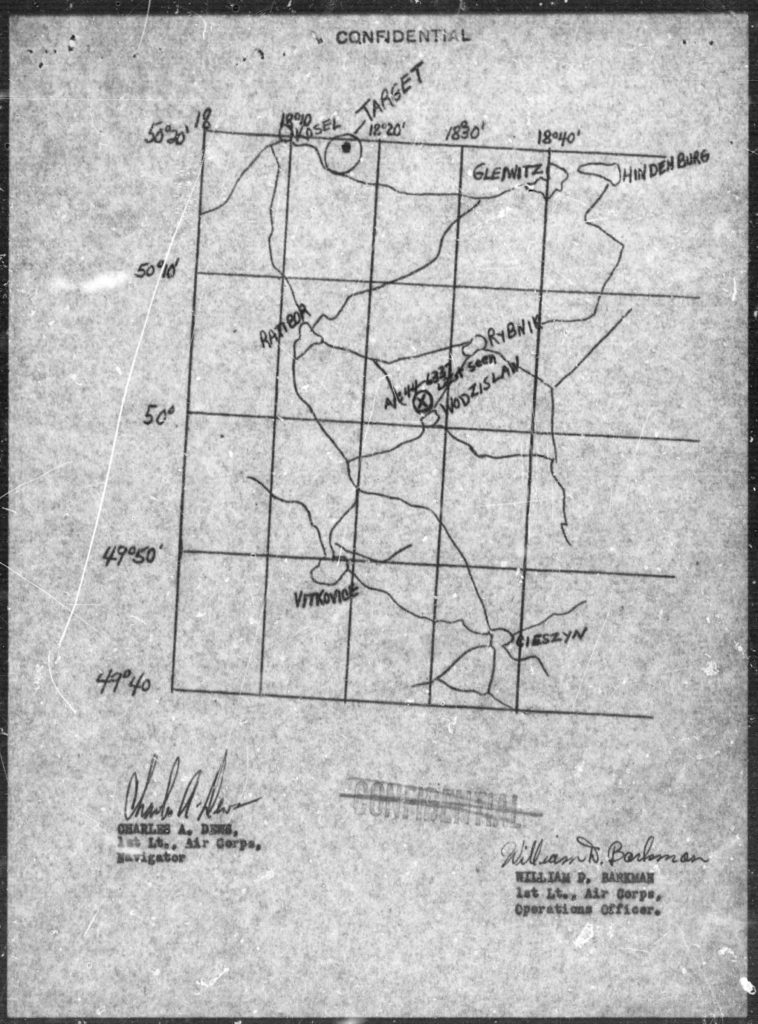 A map showing the plane's last reported position.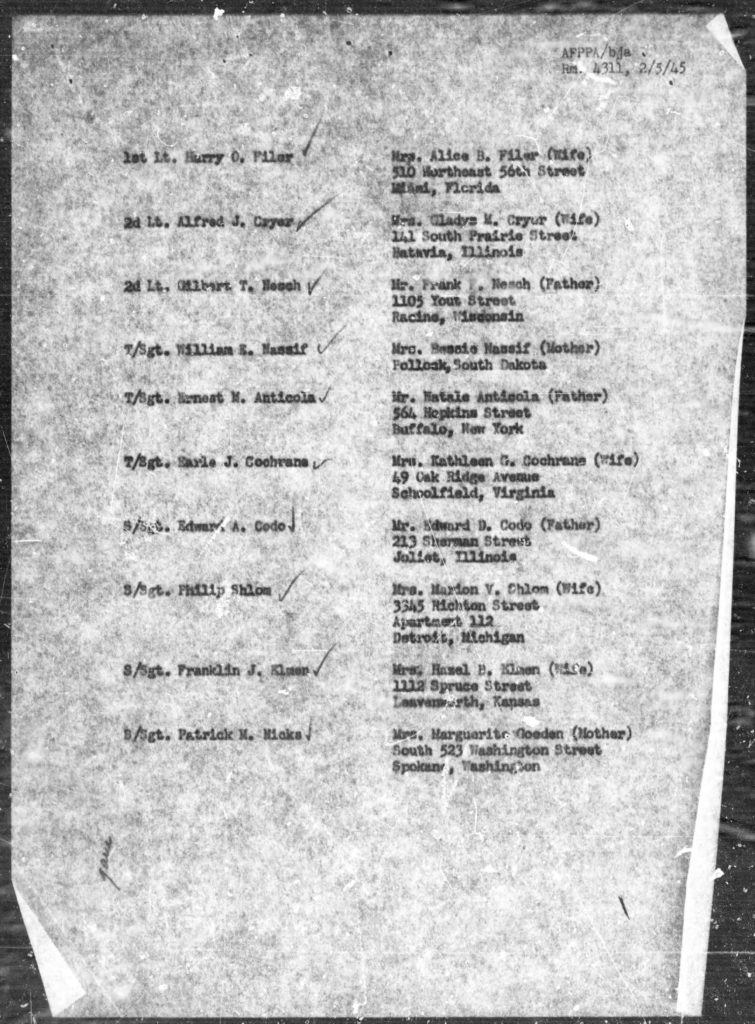 Crew roster, another (usually!) standard document in MACRs covering multi-place aircraft.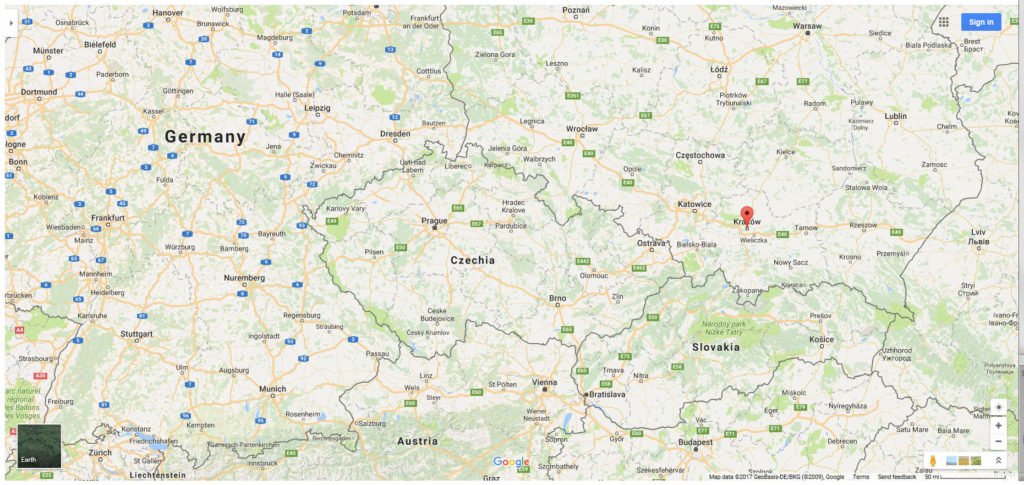 Google Map showing southeastern Germany, Czechia and Slovakia (then Czechoslovakia) and southern Poland, with Google Map's red position indicator superimposed on Krakow.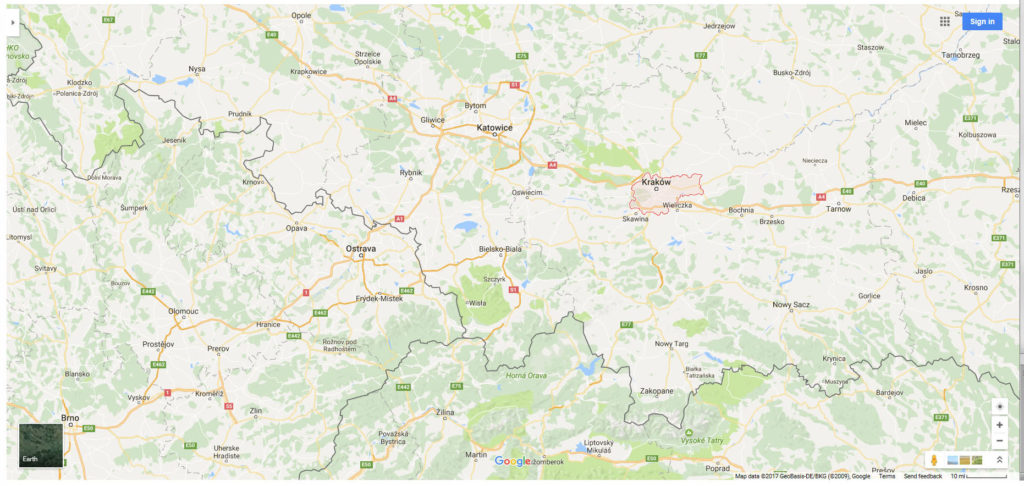 Southern Poland, zooming in on Krakow.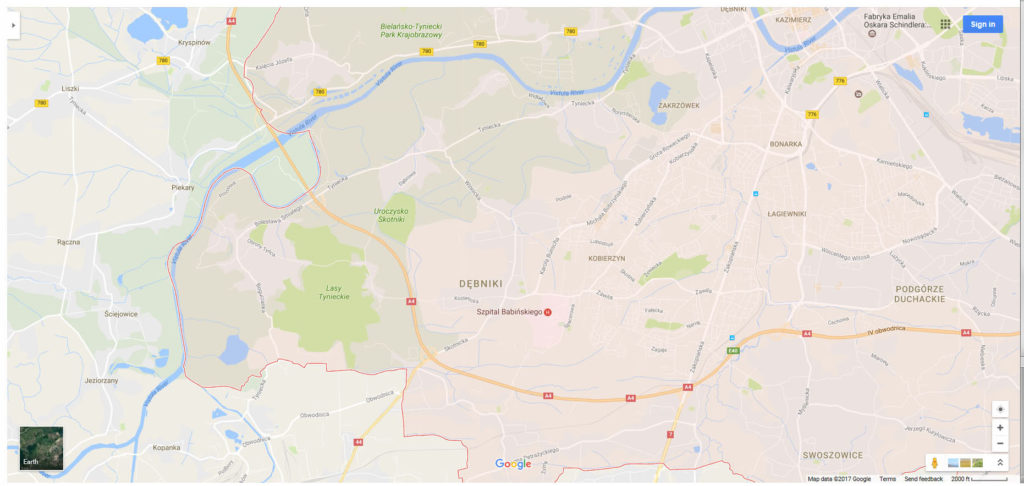 The southern part of Krakow, itself.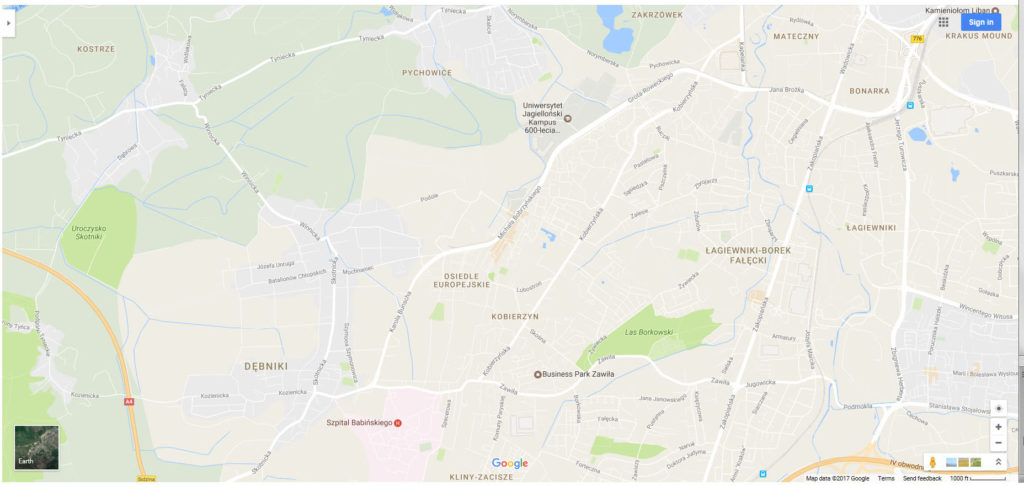 Getting closer…  The plane was crash-landed somewhere in the vicinity of the communities of Kobierzyn and (Lagiewniki) Borek-Falecki, shown in the right-center portion of this map. 
____________________
Remarkably, at the website of the Polish Aviation Museum a photo (actually, a composite of three photos) exists of the crash-landed B-17.  The same image – and much more – can be found at the "intheair" website, which features extensive information about contemporary interest by the local community (most recently as of January, 2016) in the history of Kandy's loss.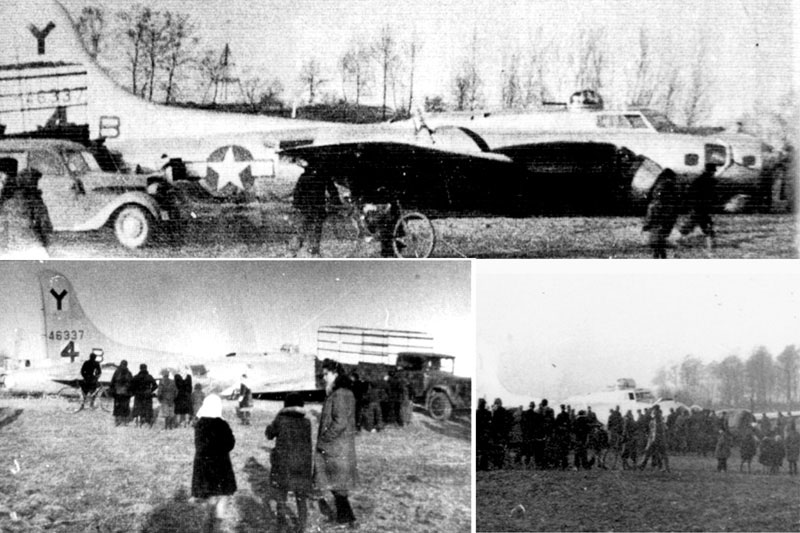 ____________________
But, what of the Navigation Log?
Rectangular in format, the dimensions of the Log are 20″ by 26″.  The upper half is subdivided into two rectangular areas of roughly equal size (which I've dubbed the "first" and "second" sections), while the lower half (which I've dubbed the "third section") has the general format of a spreadsheet.  
____________________

The "first" section of the Log (13″ x 10″) covers:
Information about the plane, date of mission, and target.
Mission Orders
Weather (General Forecast)
Flight Plan
Flight Crew
Winds
Memoranda
This section appears below: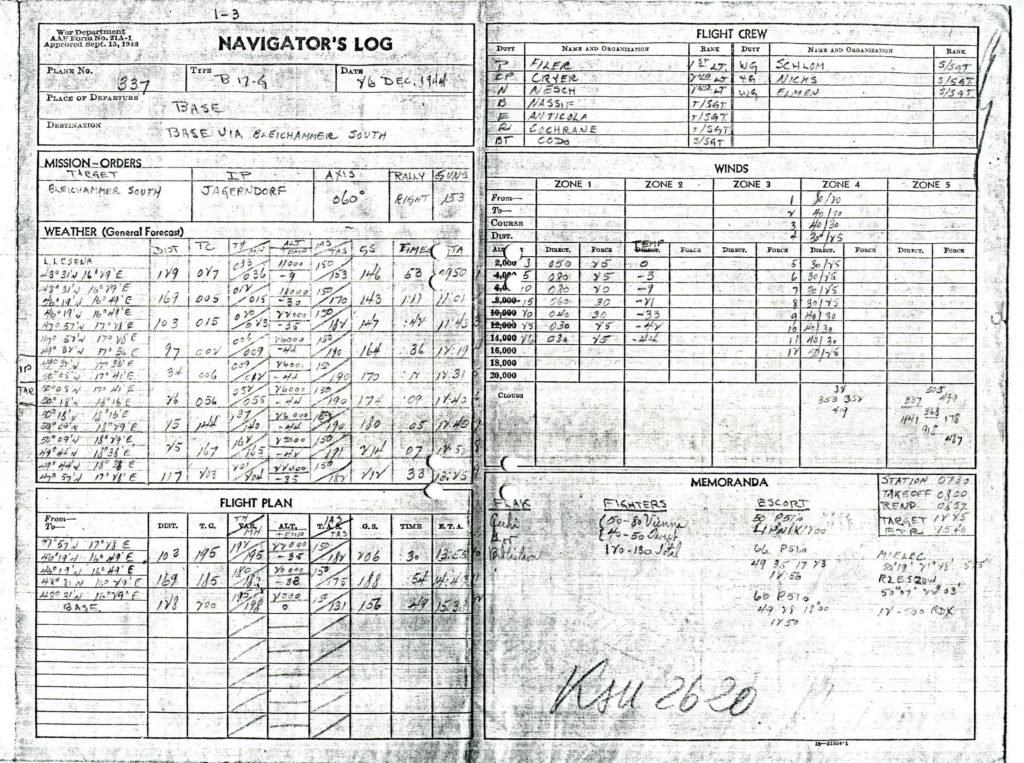 Here are highlights of the information that Lt. Nesch recorded in this section of the Log:
Plane Number (last three digits of serial): 337
Plane Type: B-17G
Date: 26 Dec 1944
Place of Departure: Base
Destination: Bleichammer [sic] South
Mission Orders
Target: Bleichammer [sic] South
IP (Initial Point): Jagendorf
Axis: 060
Rally: Right
Guns (anti-aircraft at target): 153
Weather (General Forecast) (lots of data recorded here…)
Latitude / Longitude
Dist: Distance (elapsed)
TC: True Course
TH / MH: True Heading / Magnetic Heading
Alt / Temp: Altitude / Temperature
IAS / TAS: Indicated Airspeed / True Airspeed
GS: Ground Speed
Time: Time of record
Flight Crew
P             Filer                       1 Lt.
CP           Cryer                     2 Lt.
N            Nesch                     2 Lt.
B            Nassif                    T/Sgt.
E            Anticola                 T/Sgt.
R            Cochrane               T/Sgt.
BT          Codo                      S/Sgt.
WG         Schlom                  S/Sgt.
TG          Nicks                     S/Sgt.
WG         Elmen                   S/Sgt.
Winds
Memoranda
Flak: Csehi, Gor, Bratislava
Fighters: 50-80 Vienna, 40-50 Target, 120-130 Total
Escort
50 P-51s
66 P-51s    49-35, 17-43    12:56
60 P-51s    49-28, 18-00    12:50
Station: 0730
Takeoff: 0800
Rend (Rendezvous): 0857
Target: 1245
ETR (Estimated Time of Return): 1540
(other notes)
Mielec 50-19, 21-48
Rzeszow 50-07, 22-03
12 – 500 RDX (bomb load)
____________________
The "second section" (12 1/2″ x 10″) covers:
Celestial Data
Fuel Consumption
Colors of Day
Memoranda
Radio Bearings
This section of the Log also includes pre-printed formulas and geometric reminders for calculating Interception, and, radius of action, and also conversion scales for temperature (C / F), and, barometric pressure (millibars / inches).

Here is the second section: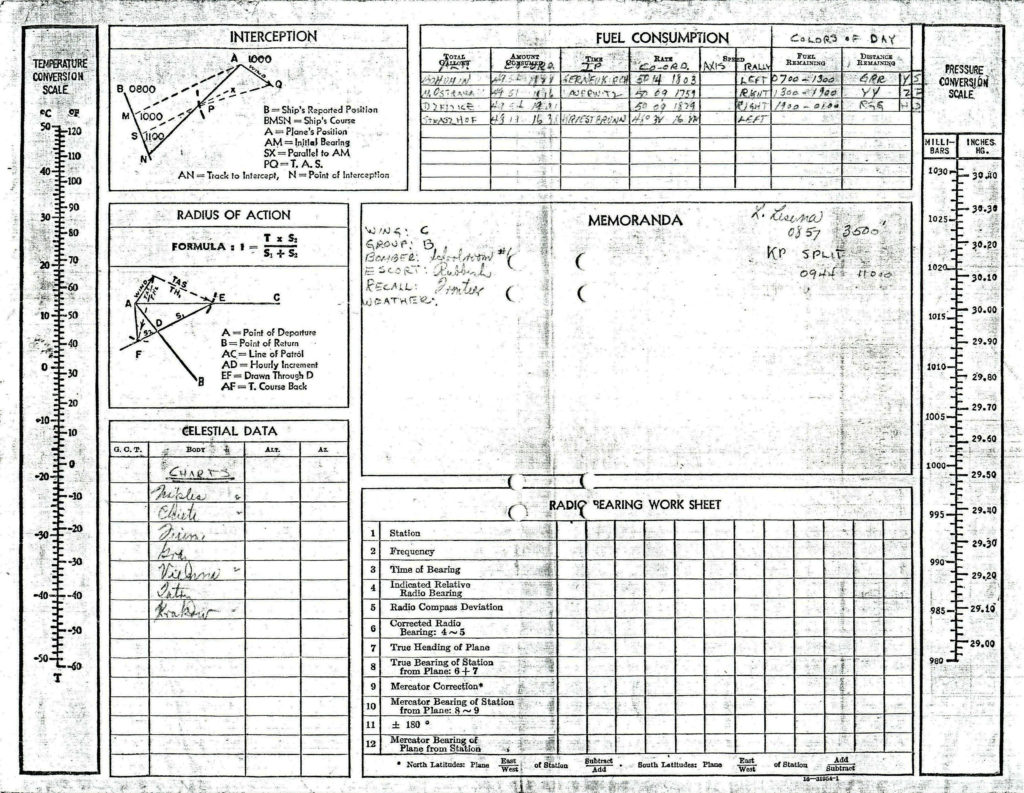 Here are highlights of the information that Lt. Nesch recorded in this section of the Log:
Celestial Data
No such data is actually recorded!  Instead, under the heading "Charts", appears a list of aerial navigation maps carried aboard Kandy.  These covered Naples, Chieti, and Fiume (Italy), Graz and Vienna (Austria), "Taby" [sp?], and, Krakow (Poland).

Fuel Consumption (lots of data recorded here…)
Colors of Day:
GRR (probably green-red-red)
YY (likely yellow-yellow)
RGG (presumably red-green-green)
Memoranda
Wing: C
Group: B
Bomber: Schoolroom #1
Escort: Rubbish
Recall: Frontier
Weather (nil)
Lake Lesina 0857 3500′
KP Split 0944 1100
____________________
The third section (26″ x 10″) occupies the "bottom" half of the Log, and in tabular format, provides fields for entry of data relevant to aerial navigation, as the mission progressed.  The fields comprise the following:

Aircraft position (Latitude / Longitude)
Time
True Course
Drift Correction
True Heading
Variation
Magnetic Heading
Deviation Correction
Compass Heading
Temperature (Celsius!)
Airspeed (Indicated, Calculated, and True)
Winds
Ground Speed
"Run" (?)
"To Next Check Point" (Distance, Time, and Estimated Time of Arrival)
Meteorological Observations (Weather, Visibility, and Clouds)
An area to the right of these entries, entitled "Remarks", allows the navigator to write notes about significant events as the mission progressed.  A scan of this section is presented below: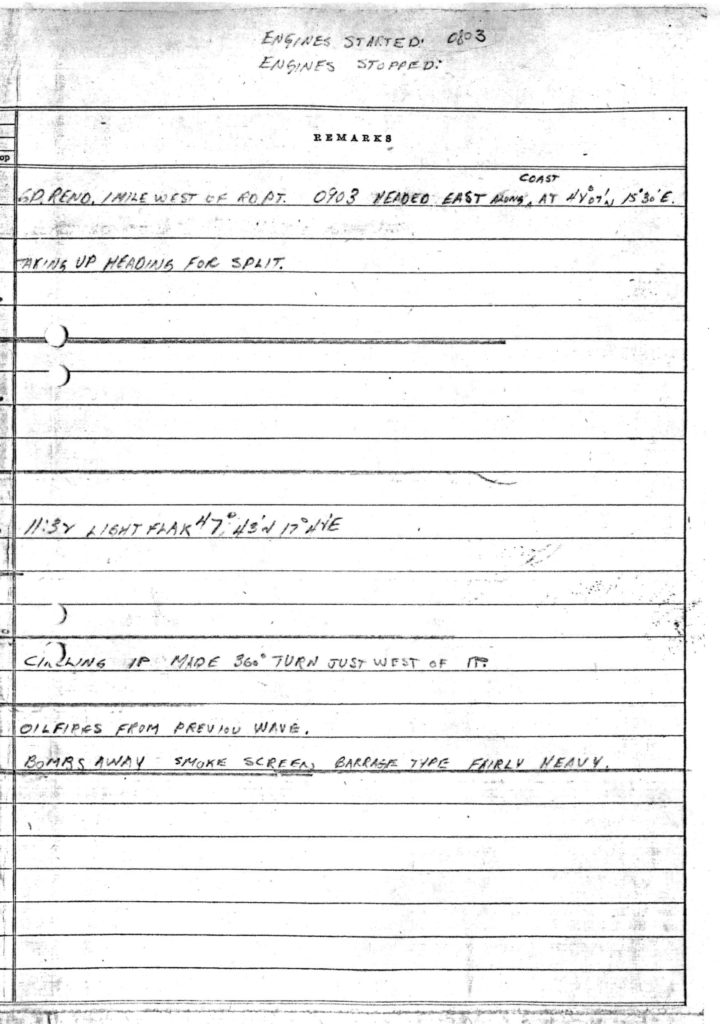 A transcription of the above notes follows:

ENGINES STARTED: 0803 (handwritten note at top of log)
ENGINES STOPPED: (…no entry would ever be made…)
08:57  GP. REND. 1 MILE WEST OF RD PT.  0903 HEADED EAST ALONG COAST, AT 48-07 N, 15-30 E (altitude 4000)
09:15  TAKING UP HEADING FOR SPLIT (altitude 9000)
11:32:  LIGHT FLAK 47-43 N, 17-42 E (altitude 21000)
12:00:  CIRCLING IP MADE 360 TURN  JUST WEST OF IP. (altitude 24000)
12:29:  OILFIRES FROM PREV. WAVE.  BOMBS AWAY  SMOKE SCREEN, BARRAGE TYPE FAIRLY HEAVY (altitude 25000)
____________________
Corroborating and reflecting the information in the Navigator's Log is Luftgaukommando Report (KSU / ME 2620), a translated page of which – from the MACR – is shown below: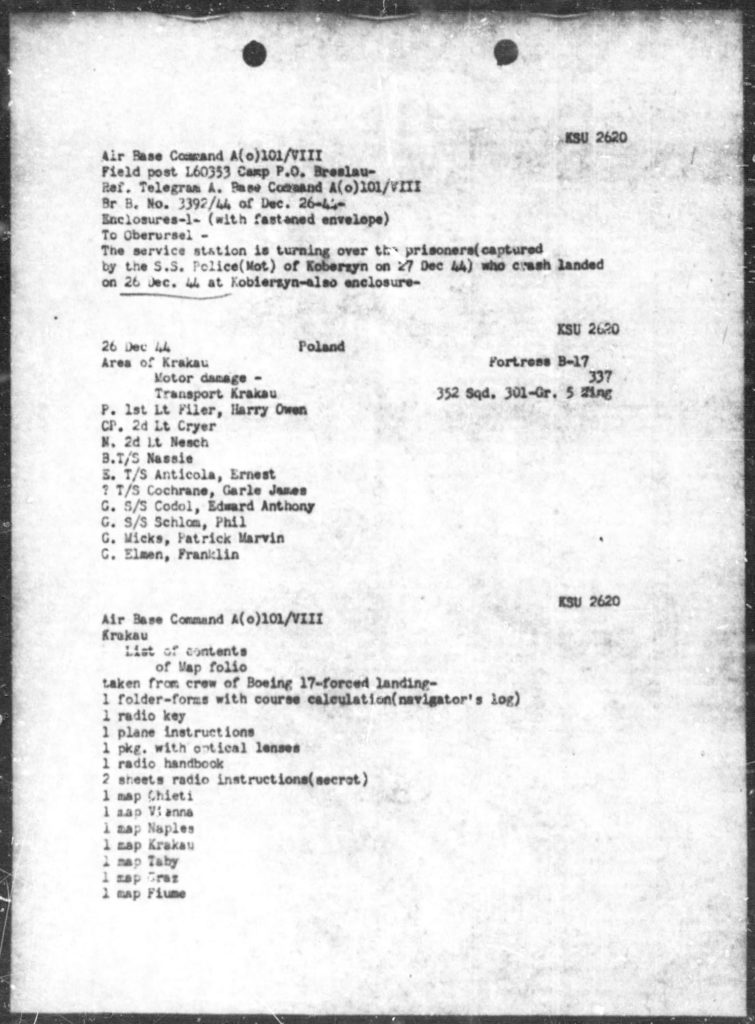 As listed above, the following material was retrieved from the aircraft:
1 folder-form with course calculation (Navigator's Log)
1 radio key
1 plane instructions
1 package with optical lenses
1 radio handbook
2 sheets of radio instructions (secret)
1 (aerial)?) map of each of following cities: Chieti, Vienna, "Naples, Krakau" (Krakow), Taby (?), "Graz" (Gratz), and Fiume.  This list is identical to the list of maps in the Navigator's Log.
Of the above items, the only material that was actually retained to become part of the Luftgaukommando Report was the Navigator's Log.  This is consistent with Luftgaukmmando Reports covering American heavy bombers, which may list all manner documents and material (such as cameras, electronic, and navigation equipment) salvaged from downed warplanes, where – upon examining the actual Luftgaukommando Report – such items are unsurprisingly (!) not present.  I would suppose this was due to the sheer physical size and weight of these items, and, the probability that they were analyzed (if not disassembled?) for intelligence purposes.  Above all, (im)practically speaking, a B-17 pilot's manual, the manual for a BC-348 radio, or a reflector gunsight, cannot readily be stuffed into an 8 1/2″ x 10″ file folder!

Thus, what is present in Luftgaukommando Reports – at least sometimes – are letters (V-Mail and handwritten), dog-tags, and personal documents (such as driver's licenses, military "calling cards", or Officer's Identification Cards), and – in rare instances, like this – a Navigator's Log. 
Items that, given the anonymity and chaos of war, are striking reminders of the very human side of history.   
So, though Lt. Nesch reported that Kandy's engines were started at 8:03 in the morning, but never quite had the opportunity to record the return of his crew to Lucera, Italy, at least they did return, albeit some months later. 
As did his log, which seven decades later exists as a reminder of a war ended long ago. 
Mission, complete.