It's late 1945.  The war has just ended. 
G.I.s are returning.  Many have already returned.
Consumer products are once again becoming available.  In abundance.  In quality.  In variety.
Time for a return to normalcy.  (Albeit, in the retrospect of 2017, a fortuitous, temporary, historically anomalous, overly romanticized normalcy.  Hey, it was nice while it lasted.)

And so we encounter an optimistic, symbolic advertisement from Pilot Radio.  The company was founded in 1919 in Brooklyn, New York by former test pilot Isidore Goldberg, as the Pilot Electronic Manufacturing Company, the name changing in 1932 to "Pilot Radio".  The company was acquired by Emerson Radio in 1965.   
The advertisement is symbolic and optimistic, with the curious image of an hourglass – denoting the march of time – before a receding horizon.  No actual products are promoted or described.  Rather, the ad's message is one of pride:  "We're back"…(note the "To Be Opened Soon" gift box) to manufacture radio and televisions for the consumer market.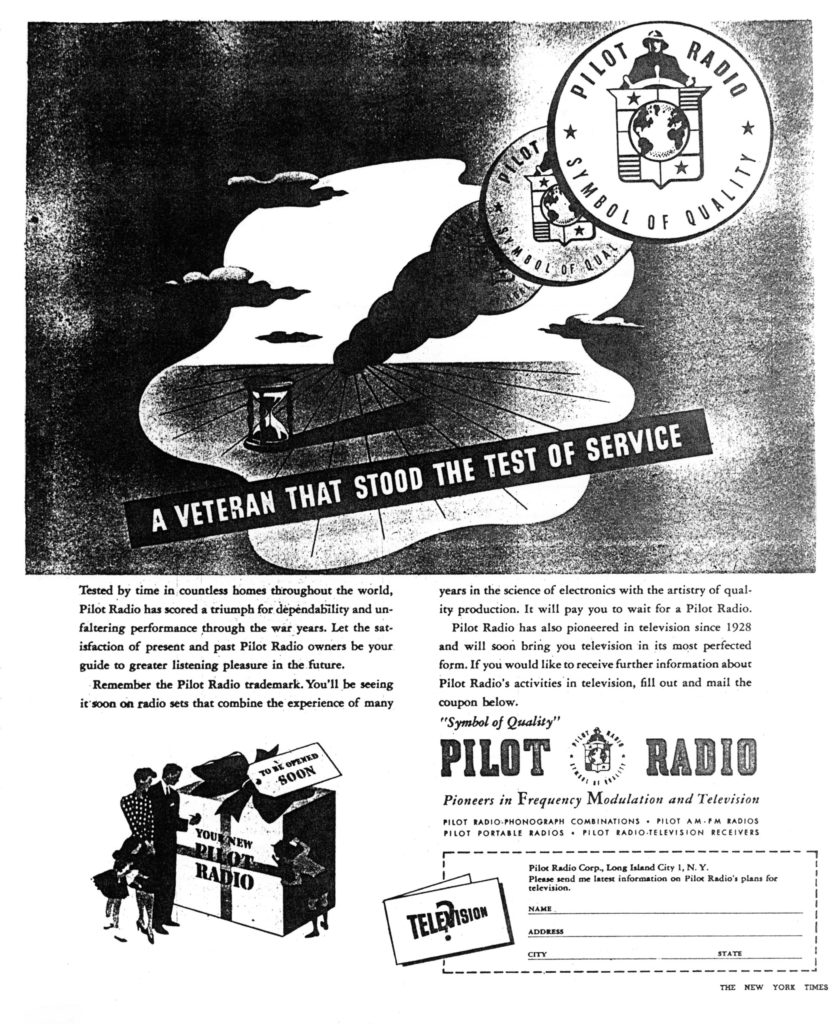 Tested by time in countless homes throughout the world, Pilot Radio has scored a triumph for dependability and unfaltering performance through the war years.  Let the satisfaction of present and past Pilot Radio owners be your guide to greater listening pleasure in the future.
Remember the Pilot Radio trademark.  You'll be seeing it soon on radio sets that combine the experience of many years in the science of electronics with the artistry of quality production.  It will pay you to wait for a Pilot Radio.
Pilot Radio has also pioneered in television since 1928 and will soon bring you television in its most perfected form.  If you would like to receive further information about Pilot Radio's activities in television, fill out and mail the coupon below.
"Symbol of Quality"
PILOT RADIO
Pioneers in Frequency Modulation and Television
PILOT RADIO-PHONOGRAOH COMBINATIONS   PILOT AM-FM RADIOS   PILOT PORTABLE RADIOS   PILOT RADIO-TELEVISON RECEIVERS
Reference
Early Television Museum – Pilot Radio Corporation History (at Early Television)
Emerson Radio (at Wikipedia)