The Army Air Force's institution of Missing Air Crew Reports (MACRs) to track Army Air Force personnel and aircraft lost on operational missions was an impressive way of collating and organizing a variety of information – from a range of sources – towards the central goal of resolving the fate of its missing aircraft and personnel.  These documents were certainly effective in their immediate and direct mission, both during and after the war.  However, what was almost certainly neither anticipated nor appreciated at the time – how could it have been? – was the usefulness of MACRs in the future.  Commencing with the declassification of these documents in the early 1980s, families of servicemen, veterans themselves, and aviation and military historians were able to use them to research historical events and solve aviation mysteries from four decades prior.

In that sense, the documents proved their worth for two generations. 
When I first began researching MACRs, I assumed that the WW II Navy generated similar documents, to track its own missing aviation personnel.  As I quickly learned, no such system of documents was created.  Instead, information about missing WW II Naval aviators is found in the Navy's Casualty Files.  As described in the National Archives' finding aid for these documents, they,
"Contain lists, radio messages, and correspondence relating to casualties (both combat and accidental), sustained by particular naval organizations or during particular actions or events.  The records include notification received by BUPERS (Bureau of Personnel) that an officer or sailor is a casualty, preliminary reports on the status (confirmed casualty or missing), ultimate disposition of the case (sometimes a finding a year or more after the event of presumptive death), and indication of notification of next-of-kin.  Some cases include considerable detail about the events surrounding the casualty and the efforts made to locate or determine the status of the individual involved.  Other cases simply include lists, such as names of the crews, of those casualties sustained by major combat vessels, or other naval units."
The fundamental difference being, with MACRs, a researcher works with a single document on microfiche, or digitally, via Fold3.com.  With Navy Casualty Files (well, a least at the United States National Archives!), a researcher can work with the original document.  And because of that, sometimes – ironically – you can find something as startling as it is unexpected.
Case in point, this posting. 
As part of a project to identify WW II Allied POWs of the Japanese who – as members of the USAAF, USN, USMC, RAAF, RNZAF, and RAF – were captured after their aircraft were shot down during operational missions in the Pacific Theater – and who had the good fortune to return home at the war's end – I discovered the photographs which appear in this post.

They are of a US Navy SB2C Helldiver dive-bomber of VB-82, of the USS Bennington, which was recovered intact (albeit in separate parts! – airframe and engine) from the coastal waters of Japan, as part of the postwar investigation into the fate of the aircraft's crew.  Happily; fortunately, both the pilot and radio-operator / gunner survived ditching and captivity, and returned to America after their liberation from the POW Camp at Ofuna (Shinjku), Japan.
Their aircraft was an SB2C-4E, Bureau Number 20593, number "26".  The plane was shot down during an attack against warships in Hiroshima Bay on March 19, 1945. 
As described in the War Diary of the USS Bennington for that date,
Receiving word that units of the Japanese Fleet were at anchor at Hiroshima Bay and Kure Harbor, STRIKE ONE BAKER was launched, amid a grand scramble among pilots to decide who should be the lucky ones to make the flight.  Thirty-eight (38) aircraft from the BENNINGTON joined with an equal number from the HORNET plus smaller groups from the BELLEAU WOOD and SAN JACINTO.  The flight proceeded to Hiroshima Bay in search of the elusive enemy and sighted two or three BBs, one CL, a number of DDs, and various ships of the train.  Attacks were made on one "Yamato" class BB, several DDs and cargo types.
DAMAGE INFLICTED
One (1) battleship "Yamato" class, four (4) destroyers, one (1) Sugar Able Love, and one (1) Sugar Able Baker were damaged.

Two (2) radar stations and one (1) coastal defense position on Otada Shima were damaged in strafing attacks.

On the west coast of Shikoku Island, two (2) trains were strafed and the engines hauling both were destroyed.
LOSSES
Lieutenant Donald Doris WORDEN, (A1), USNR, File No. 125994 of 16-18 138 Street, Flushing, L.I., New York, and his radio gunner BROWN, Clifford A., ARM 3c, USNR, 826 27 71, of 44 Mercer Street, Hamilton Square, New Jersey, were last seen in their rubber life raft in Hiroshima Bay after making a water landing as a result of damage to their airplane, SB2C-4E, Bureau No. 20593, by AA fire while making a dive bombing attack on a Jap battleship. Lieutenant WORDEN and BROWN have been declared "missing in action."
Oddly, the serial given for Donald Worden is incorrect.  It should be 0-130061.
And, in the Bennington's Action Reports covering March 14 through April 30, 1945 ("Operations against Southern Kyushu Area, Kure Area (Honshu) and Nansei Shoto area in support of the Invasion and Occupation of Okinawa Gunto"):
19 March 1945
     1 Baker (15 VF, 11 VB, 12 VT), 0647-0941, together with flights from other carriers and task groups was assigned the mission of attacking the main Japanese battle fleet at its home base.  The BENNINGTON Group in the face of severe AA fire attacked a YAMATO Class battleship, four destroyers and a large tanker all underway in HIRSOSHIMA BAY.  Three hits with 1000 lb. SAP bombs were scored on the battleship – one being confirmed by photographs, three destroyers were damaged by near misses with bombs, rockets and strafing, and three hits and a miss with 500 kb. Bombs were scored on the tanker.  One VB was severely damaged by AA and made a water landing South of the Bay.  The pilot, Lt. D.D. WORDEN, USNR, and aircrewman C.A. BROWN ARM2c are listed as missing in action.
Due to my unfamiliarity with Japanese geographic terms or the Japanese language in general (!) I'm unable to actually identify – using on-line maps – the location where Lt. Worden ditched 20593.  However, knowing that the aircraft landed some-where in Hiroshima Bay, I've included a Google Map as a general guide to that locale.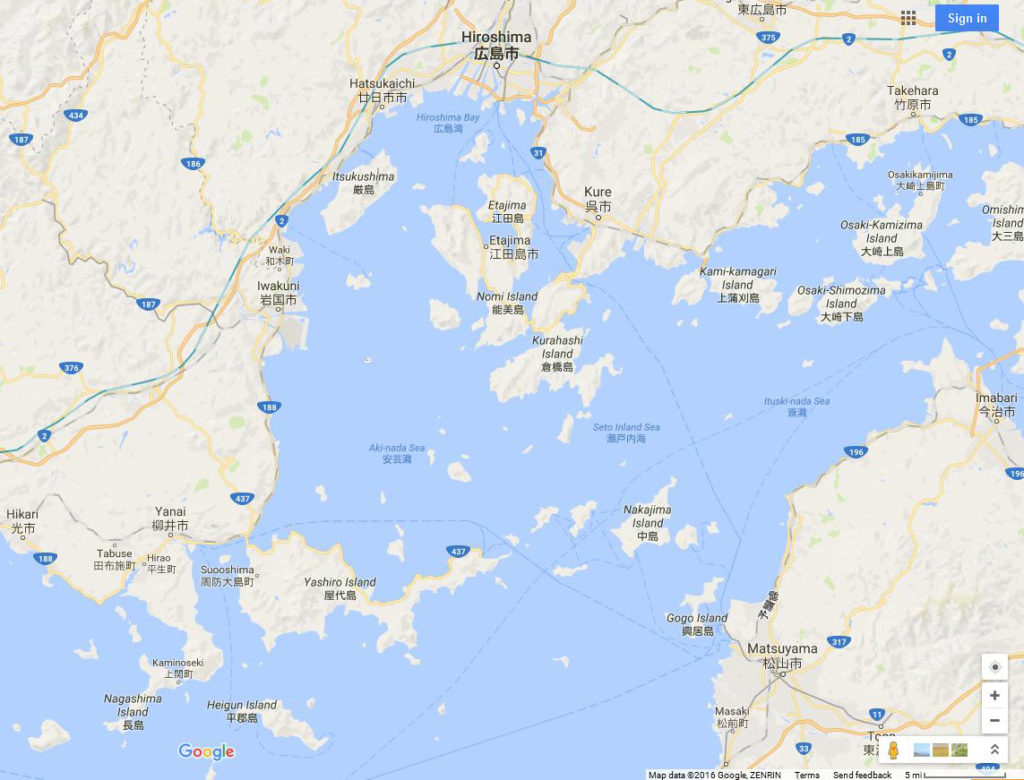 The above is the account of the loss of the SB2C from the American side.  What is particularly noteworthy in the Casualty File is its coverage of this incident from the vantage point of five Japanese witnesses, the hiring and interaction with the Japanese salvage team, technical details of the Helldiver based on a description of the salvaged wreckage, and above all, the four photographs of the plane that were – and are still – included with the report.  (Unfortunately, the plane's identification plate was not found in the Casualty File!)  A transcribed version of the Casualty File is available, below:

Report of Investigation of Unidentified SB2C Helldiver by Legal Section GHQ, SCAP (SB2C-4E crewed by Lt. Donald D. Worden and ARM 3C Clifford A. Brown)
The four photographs appear below.  All were scanned at 600 dpi to ensure high resolution.  Though the staples (1947 vintage staples, at that!) in the last two images are rather obvious, I've decided not to "crop" them out of the scans, so viewers can get a complete impression of the "character" of the original photos – and thus the landscape in the images.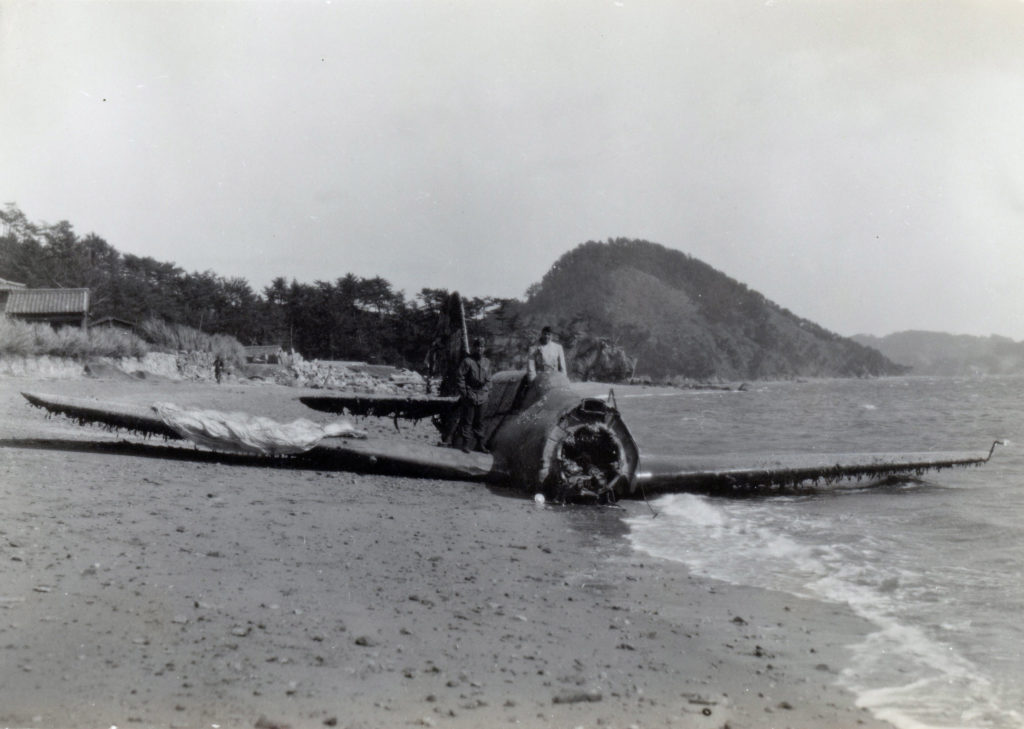 A view of 20593 from the front.  Captain Hacker is presumably standing in the cockpit.  Note that ARM Brown's opened parachute, still intact after two year's submersion, laying upon the right wing;   Seaweed has become attached to the underside of the wings and elevators, the fabric of the latter, and also the rudder, shows damage to fabric incurred from combat, or, when Lt. Worden ditched the plane.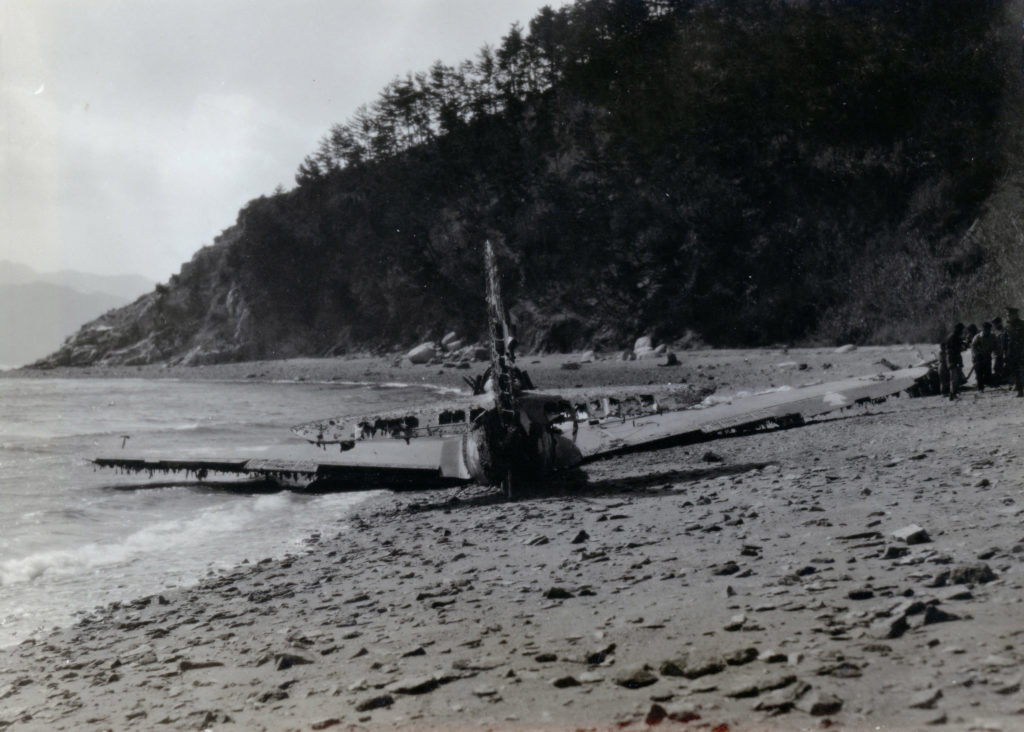 And, a nice view of 20593 from the rear.  Damage to the tailplane is clearly visible.  Note that the radio-operator / gunner's twin thirty-caliber machine guns, pointing to the left rear, are still present.  The white arrow denoting VC-20 can be seen on the starboard aileron.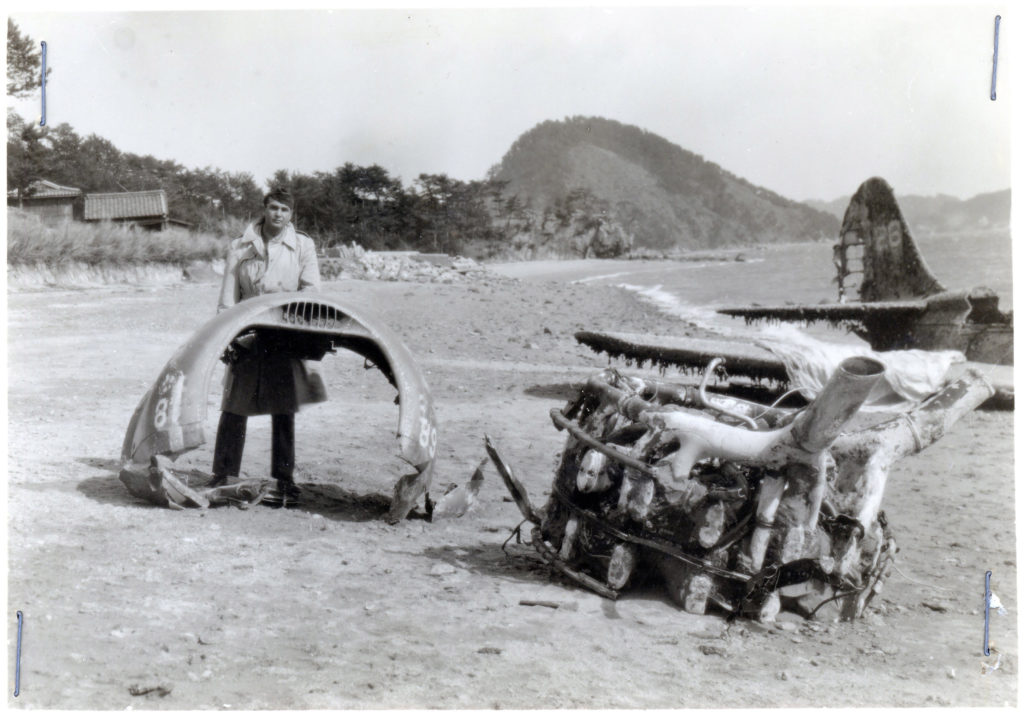 Captain Hacker holding the Helldiver's cowling, while the plane's Wright R-2600-20 Cyclone sits forlornly nearby.  The propeller was not found during recovery.
The "back-seater's" canopy is missing (probably having been jettisoned prior to ditching), while the rear-canopy sections of the turtleback are partially folded.  Note that the number on the cowling is "89", while that on the tail is "26".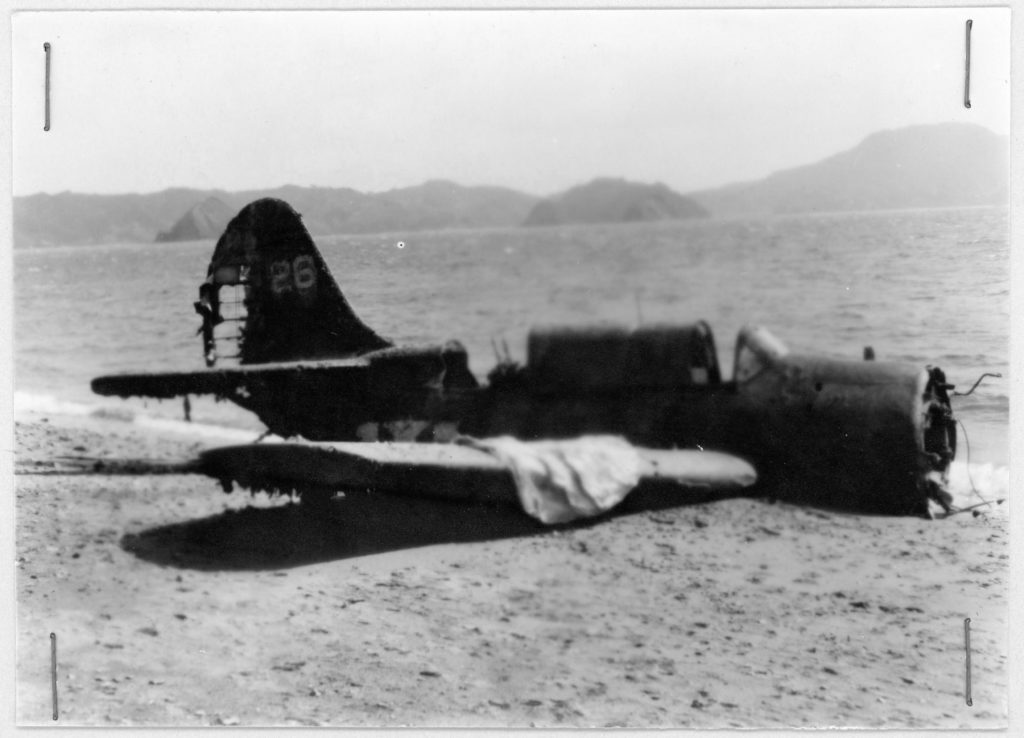 An overall view of 20593.  Not quite in focus, but still quite interesting.  ARM Brown's parachute was first found in the rear cockpit, and then placed upon the starboard wing.
* * * * * * * * * *
The fate of the wreckage of 20593 is unaddressed in the VB-82 Casualty File.  The aircraft and its engine may have served as raw material for tools, household furnishings, or workplace implements for nearby inhabitants.  Or, the wreckage may eventually been sold for scrap.  Ironically, precisely because it was intact when recovered, there are likely now – seventy-one years later – no traces of the plane still remaining at the site of its recovery.  Like the overwhelming majority of military aircraft of all nations, once the machine served its purpose, it passed out of existence.

Well, machines can be replaced.  The men who fly them cannot be. 
What of the two airmen who crewed 20593?
Among SB2C aircrews shot down in combat during the Second World War, there were eight other instances where both crewmen of this two-seat dive-bomber – pilot, and, radio-operator / gunner – survived capture and captivity.  They are:

June 15, 1944
VB-2, SB2C-1C, Bureau Number 261
Lt. Daniel T. Galvin (California), and ARM 2C Oscar D. Long (Greenville, S.C.)
POWs at Ofuna
February 16, 1945
VB-12, SB2C-4E, Bureau Number 20308
Ensign Charles H. Brown (Kingwood, W.V.), and ARM 3C Donald J. Richards (Fort Lauderdale, Fl.)
POWs at Ofuna
March 18, 1945
VB-82, SB2C-4E, Bureau Number 20555
Lt. Carlyle Newton (Connecticut), and ARM 1C Edward G. Curtin (Washington, D.C.)
Newton: POW at Ofuna; Curtin: POW at Omori
March 19, 1945
 VB-10, SB2C-4E, Bureau Number 20971
Ensign Robert Brinick (Detroit, Michigan), and ARM 3C Crawford H. Burnette (Douglasville, Ga.)
POWs at Ofuna
VB-82 (Worden and Brown – in this post)
VB-83, SB2C-4E, Bureau Number 20702
Lt. Eugene J. Tougas (Jacksonville, Fl.), and ARM 1C Charles J. Richardson (?)
POWs at Ofuna
July 18, 1945
VB-83, SB2C-4E, Bureau Number 20684

Ensign Ernest W. Baker (Richmond, Va.), and ARM 3C Walter L. Owens (Chicago, Il.)
POWs at Ofuna
July 28, 1945
VB-86, SB2C-5, Bureau Number 83246

Lt. JG Joseph D. Brown (Baltimore, Md.), and ARM 2C Frederick C. Lockett (Ardsley, Pa.)
POWs at Ofuna
VB-94, SB2C-4E, Bureau Number 20946
Lt. Joseph G. Costigan (?), and ARM 3C Warren E. Collins (Essex County, N.Y.)
POWs at Ofuna
The names of Donald Worden and Clifford Brown appear (as do those of seven other airmen) in the list of returned prisoners in the USS Bennington's Cruise Book.  Both were imprisoned at Ofuna (Shinjku) POW Camp, in Tokyo.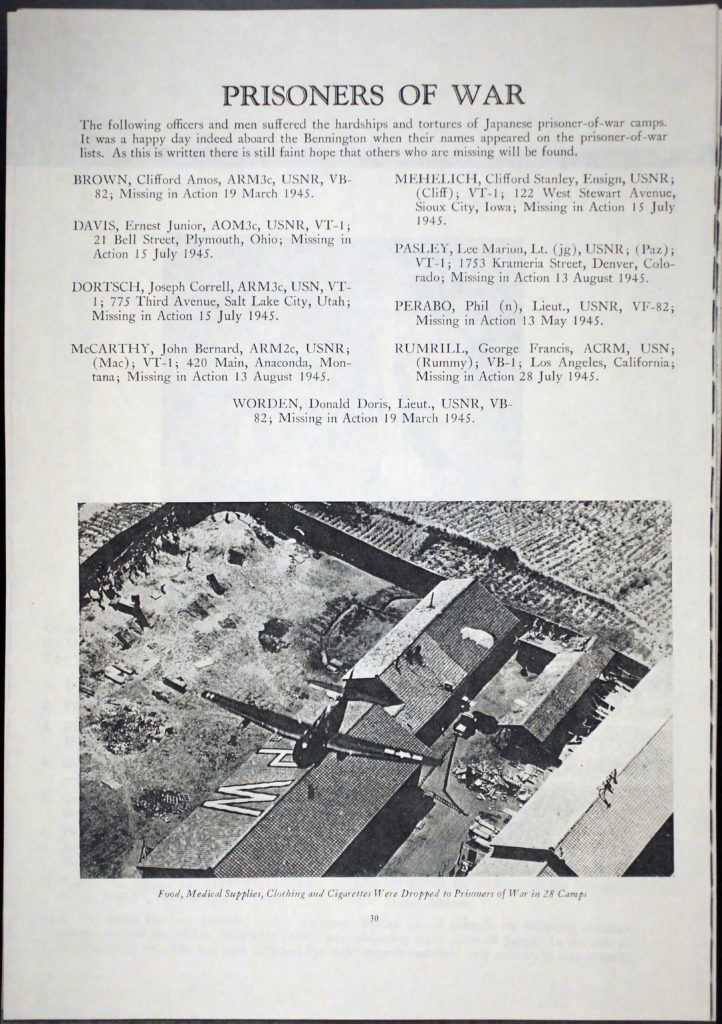 Presently, my information about Brown is limited to the entry for him in Combat Connected Naval Casualties of World War Two, which lists his wartime next-of-kin as his father, Mr. Amos Stanley Brown, of 44 Mercer St., Hamilton Square (Mercer County), New Jersey.
More information is available about Donald Worden.  Navy Muster Rolls list him as having been stationed – in December of 1941 and February of 1942 – at the Naval Reserve Aviation Base at Kansas City, respectively.  By March of 1942, he is listed at the Reserve Naval Aviation Base in New Orleans.
Notably, he was the recipient of the Navy Cross.  His award citation, dated 9 July 1945 and available at Military Times, states,
The President of the United States of America takes pleasure in presenting the Navy Cross to Lieutenant Donald Doris Worden (NSN: 0-130061), United States Naval Reserve, for extraordinary heroism in operations against the enemy while serving as Pilot of a carrier-based Navy Bomber and Division Leader of four planes in Bombing Squadron EIGHTY-TWO (VB-82), attached to the U.S.S. BENNINGTON (CV-20), on 19 March 1945.  On that date, Lieutenant Worden engaged in an eleven plane attack against a new enemy battleship and its destroyer-cruiser screen near the Naval Base at Kure, Japan.  He dove his aircraft and maneuvered his division with skill and aggressiveness in a closely coordinated dive bombing attack on this force, his determination and able airmanship contributing vitally to the damage scored on the battleship by repeated direct hits and near misses.  His attack was driven home in the face of extremely intense and accurate anti-aircraft fire from the battleship, its nine screening destroyers and cruisers and from surrounding shore batteries, and in spite of his own plane being struck before his dive.  His courage and daring were at all times in keeping with the highest traditions of the United States Naval Service.
Combat Connected Naval Casualties of World War Two lists his next-of-kin as his wife, Evelyn Louise Worden, her wartime address being 1860 Southwest 10th Street, in Miami, Florida.
Further information is available about Lt. Worden, but it reveals a future – post-1945 – that one wishes had been far different.
After surviving being shot down and captured by the Japanese – a fate from which many Allied airmen did not return – and spending the next half-year as a POW, Lt. Worden remained in the Navy, rising by the early 1950s to the rank of Lieutenant Commander. 
He was killed in an aviation accident only eight years later.
As reported by the Kansas City Times in that newspaper's issue of December, 1953:
FLIER DOWN IN PACIFIC NAVY PLANE WITH TEN ABOARD IS LONG OVERDUE
Lieut. Milton Kay Walsh, Son of Mrs. E. L. Walsh. 2 East Sixty-Second, Is a Crew Member
December 22, 1953
     The navy announced yesterday that a Kansas City man was aboard an R4D transport plane which disappeared Sunday in the Guam area of the Western Pacific while on a flight looking for another plane, lost since Wednesday.  He is Lieut. Milton Kay Walsh, 30, husband of Mrs. Betty Kerr Walsh, Palo Alto, Calif., formerly of Kansas City.  His mother, Mrs. Edward L. Walsh, lives at 2 East Sixty-second street.  Ten crew members were on the plane, which has not been heard from since it went out to look for the other craft.  Lieutenant Walsh attended Southwest high school and Junior college before he enlisted in the navy in World War II.  He has been in the service eleven years.  In World War II he was a flier based at Attu in the Aleutians.  He has a 5-year- old daughter, Peggy Jean Walsh, Palo Alto.  A sister of the lieutenant, Mrs. E. Albert Aisenstadt, lives at 1204 West Sixty-seventh street.  His wife's parents are Mr. and Mrs. J. A. Kerr, 1120 East Seventy-fifth street terrace.  Others listed as being on board the transport: Lieut. Comdr. Donald D. Worden, son of Mr. and Mrs. William Ralph Worden of Stewartsville, Mo.; Kenneth John Schmitz, chief aviation machinist's mate, son of Mrs. Mary Helen Schmitz. San Diego.; Thomas Theodore Lillie, chief aviation electronicsman, son of Mr. Ernest Lillie of El Reno, Ok.; William Boykin Jenkins, aviation machinist's mate, first class, son of Mr. and Mrs. John H. Jenkins, Atlanta.; Hollis Mimhell Burks, parachute rigger, first class, son of Mr. and Mrs. Clarence Mitchell Burks, Huntsville. Ala.; Edward Frank Geis, aviation elecronicsman second class, son of Mr. and Mrs. John E. Geis, Dos Palos, Calif.; Marion Leon Carpenter, aviation machinist's mate, third class, son of Mr. and Mrs. Rufus Gordon Carpenter. Bessemer City, N. C.; Billie Edward Hall, aviation machinist's mate, third class, son of Mrs. Everett Hall, Amarillo, Tex.; Douglas Anthony Anderlini, airman, son of Mr. and Mrs. Joseph Louis Anderlini, St. Louis.
This story was also reported in the Lewiston Tribune in its December 27 issue (found at the Google News Archive):
Navy Plane Found in Volcano Crater
Lewiston Tribune
December 27, 1953
     GUAM (AP) – A search team Saturday found the wreckage of a big Navy plane that disappeared last Sunday while looking for another lost Navy plane.  They said there were no survivors of the 10 crewmen aboard.
The wreckage of the R4D8 was found in the crater of an extinct volcano on tiny Agrahan Island 380 miles north of here.
The searchers said it apparently had crashed into the cloud capped 3,166-foot cone without warning.
The search for the first missing weather plane was called off by the Navy at noon Saturday.
A very detailed account of the incident appears at the website of VJ-1 / VW-3.
R4D8, Bureau Number 17179, was assigned to Naval Air Station Guam, and was lost while searching for PB4Y-2S 59716 of VJ-1 (Weather Squadron One), which went missing on a, "low level typhoon penetration on Typhoon 'Doris' on 16 December 1953."
A comprehensive account by Max Crow concerning the loss of 57916 and her nine crewmen (who were never found) as well as Skytrain 17179, is available at the Weatherplane Down website.  The website includes a list of the Privateer's crewmen and an aerial photograph of Agrihan Island. 
Remarkably, a photograph of R4D8 17179, via Cheryl Davis, is present at the Aviation Safety Network website, and is shown below.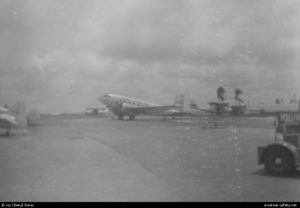 Lieutenant Commander Worden, born in 1921, is buried at Stewartsville Cemetery, in DeKalb, Missouri.  Though FindaGrave denotes his date of death as December 20, 1983, viewing a "full-size" image of his military grave marker shows that the marker is indeed correctly engraved as 1953.
* * * * * * * * * *
And so, a very brief tale of one airplane and two men, the fate of one reminiscent of the epigraph to John O'Hara's 1934 novel, Appointment in Samara, itself based on an ancient Babylonian Tale. 
They have passed into history – as do all men and all things  – but perhaps this brief account is enough to remember them, at least for a time.

References
Doll, Thomas E., Jackson, Berkley R., and Riley, William A., Navy Air Colors – United States Navy, Marine Corps, and Coast Guard Aircraft Camouflage and Markings, Vol. 1911-1945, 1983, Squadron/Signal Publications, Inc., Carrollton, Tx.
Stern, Robert, SB2C Helldiver in Action, 1982, Squadron/Signal Publications, Inc., Carrollton, Tx.
Swanborough, Gordon, and Bowers, Peter M., United States Navy Aircraft since 1911, 1968, Funk and Wagnalls, New York, N.Y.
Combat Connected Naval Casualties, World War II, by States: U. S. Navy, Marine Corps, Coast Guard, 1946, Government Printing Office, Washington, District of Columbia.
Finding Aid, for "Casualty Branch / Casualty Assistance Branch of the Personal Affairs Division – United States Navy" – "Ship, Stations, Units and Incidents Casualty Information Files, 1941-45 and 1950-60" (MLR Entry 1024) (Records Group 24), from the National Archives and Records Administration, College Park, Maryland. 
Casualty File for VB-82 at United States National Archives.  Location:  Records Group 24, Entry 1024, Stack Area 470, Row 55, Compartment 6, Shelf 7.
Aviation Safety Network Data File for R4D8 17179, at
http://aviation-safety.net/database/record.php?id=19531220-1&lang=de
Aviation Safety Network Photograph of R4D8 17179, at
http://aviation-safety.net/photos/displayphoto.php?id=19531220-1&vnr=1&kind=PC
Bureau Numbers for SB2Cs for Baker, Charles H. Brown, Joseph D. Brown, and Costigan, from Aviation Archeology.com, at
http://www.aviationarchaeology.com/
Donald D. Worden biography at FindAGrave.com, at
http://www.findagrave.com/cgi-bin/fg.cgi?page=gr&GSln=worden&GSfn=donald&GSmn=d&GSbyrel=all&GSdyrel=all&GSob=n&GRid=111220523&df=all&
"Flier Down in Pacific Navy Plane with Ten Aboard is Long Overdue", in Kanas City Star for December 22, 1953, at website of Newspapers.com, at
https://www.newspapers.com/newspage/58954007/
Navy Cross Citation for Donald Doris Worden, at
http://valor.militarytimes.com/recipient.php?recipientid=27391
"Search Plane Crashes into Agrihan Crater", in The Daily News (Guam), for December 23, 1953, contributed by Mike Iverson, at
http://www.de634.org/0_vj1_RD4_agana-news-storya.htm
VJ-1 / VW-3 home page, at
http://www.de634.org/vj1-home.htm
– Michael G. Moskow