Aviation – particularly military aviation – is fascinating for several reasons: The technologies that enable and support manned aerial flight; the myriad forms of insignia and markings (national, commercial, and personal) carried by aircraft; the effect of aircraft, aerial transportation, and aerial warfare upon economics, foreign policy, and ultimately the pace and nature of human thought.
Most books (and I suppose, most websites…) covering aviation focus upon these topics, emphasizing – particularly for military planes – camouflage, insignia, and nose art, or, the application of technology to warfare. 
Somewhat less attention is accorded to another aspect of military flying: Leadership.  The melding of men – individuals and groups – into an effective flying force, in a geographic setting that is very much a "new world" to most.

The document presented in this post – a Pilot's Information File (a "P.I.F.") issued to new members of the 96th Bomb Squadron (2nd Bomb Group, 15th Air Force) upon their arrival at the 2nd BG's base at Amendola, Italy, in 1944 and 1945 – exemplifies this aspect of military flying.

Twenty-five pages long, the File includes the following sections:
Chaplain's Welcoming Message
Introduction and Statement of Purpose by the Commanding Officer of the Squadron
Discussion of "S-2" (Military Intelligence)
Map showing layout of Amendola Airfield (shared between the 2nd  and 97th Bomb Groups) showing location of areas assigned to the 2nd's component squadrons (20th BS, 49th BS, 96th BS, and 429th BS).
Radio Navigation Aids for the 15th Air Force, with listing of locations of radio beacons and their associated call sings, frequencies, and associated information.
Diagram of instrument letdown procedure using Amendola and Lesina radio beacons
Aeromedical information, covering basic human anatomy, pressure points in case of injuries or wounds, and medical effects of altitude changes
Basic description of the 2nd Bomb Group as a combat organization
Activity before, during, and after a typical combat mission
Flying Clothing
Advice from the Squadron Flight Surgeon
Radio
Rank and Crew Position in the 96th BS
~ and finally ~
Miscellaneous Information (Rest Camps, Passes, Mail, Quarters, Relations between flying and ground personnel, laundry, and (inevitably!) PX.)
____________________
Some images and graphics from the PIF are shown below.
If you're interested, I've created a PDF version of the document (available here) which combines the graphics, diagrams, and cartoons in the original document, with digitized text.
____________________

But, what about the source of this book?…  Some years ago, I spent an afternoon with the late William Randall Bedgood, Jr.  Mr. Bedgood served as a B-17 pilot in the 2nd Bomb Group, where rising to the rank of Colonel, he flew 41 missions and earned – among other awards – the Silver Star.  Mr. Bedgood kindly loaned me his mimeographed copy (remember mimeographs?!) of the PIF, and as a result, I'm able to present you with a digital version of the document, 73 years after its creation. 
Here is an excellent photograph of (then) Colonel Bedgood, from the website of the 2nd Bombardment Association, the caption reading "WWII 2nd Bomb Group 300th Mission Lead Plane, Jerry Hofmann, Bombardier Col Randall Bedgood, Pilot Jim Merritt, Navigator Amendola Foggia Italy."  (To be specific, Colonel Bedgood is second from left in the photo.)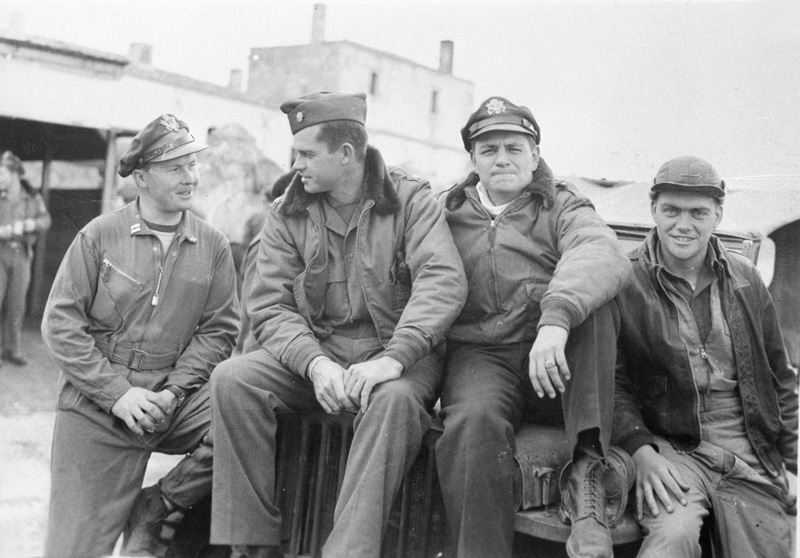 ____________________
Front page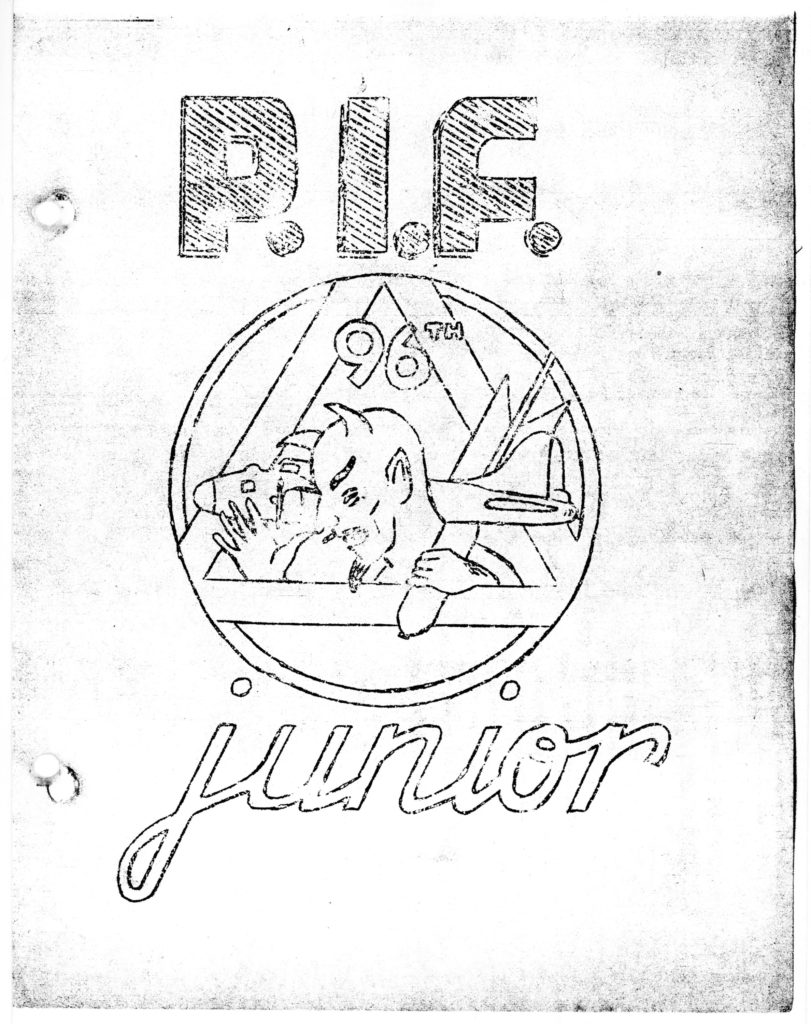 ____________________
A WELCOME FROM THE CHAPLAIN
As chaplain of the 2nd Bomb Group I extend to you a most hearty welcome to our organization.  And I urge upon you from the start a realization of the value of habitual church attendance.
Following is the schedule of services for the three faiths:
Protestant:     Sundays at 10:30 and 19:00  Weekdays as announced.
Catholic:         Sundays at 09:00 and at 18:30 (this PM service at the 97th Bomb Group.)  Thursdays at 18:30      (Our Chapel)
Jewish:           Friday evening at 19:00
Overseas offers many temptations to forsake the high standard which ruled our lives and gave us happiness at home.  Through the services and whatever personal service we can render, my Catholic colleague, Fr. Musch of the 97th., and I stand ready to aid you in keeping the faith.  Use us.
Donald E. Paije

____________________
Map of Amendola Airfield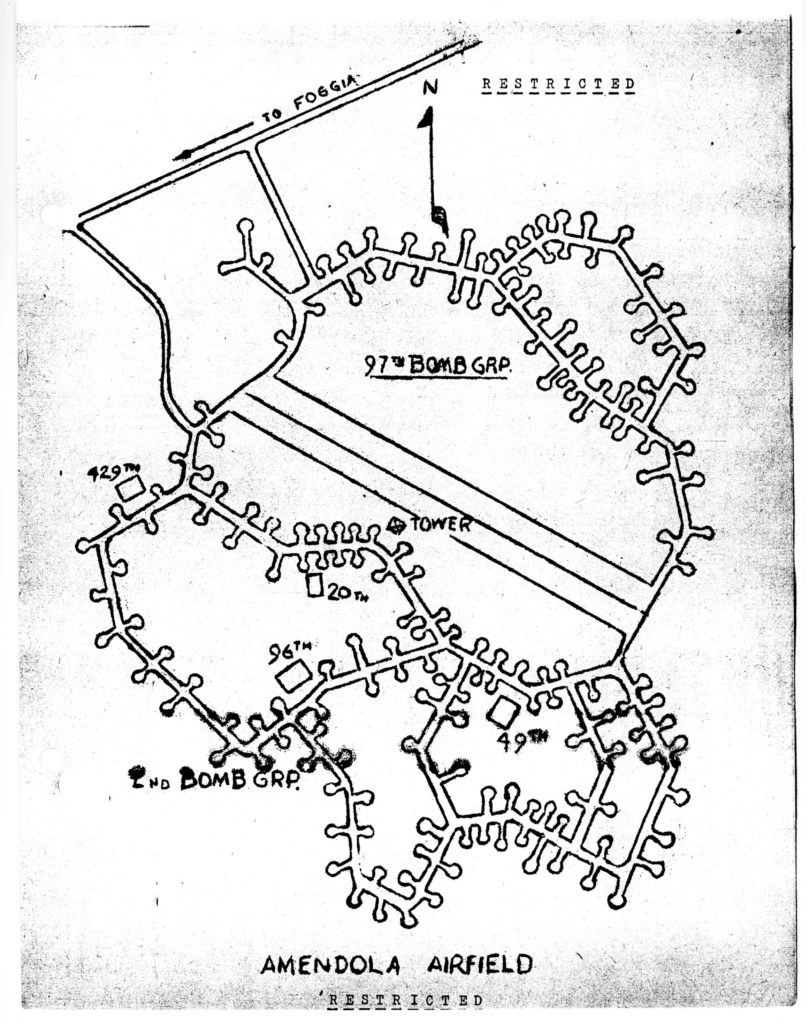 ____________________
I N T R O D U C T I O N
You are now in a Combat Organization.  You are in the oldest Squadron and Group still in existence, dating back to the First World War.  You have a fine tradition to live up to.
We realize the change from conditions existing in the United States to those in combat.  Rather than let you learn haphazardly, this booklet has been prepared to carry you over the, period of false first impressions.
Use this only as a sampler.  Important details are for you to read for yourself in the memorandums and other material placed at your disposal.  Learn the right way now.
We assume that at least your first night and day have passed, that you have been billeted, and that your papers have been processed by the Orderly Room.  Squadron Operations will now be the center of most of your activity.  Read the bulletin board carefully, and any orders posted there are to be treated as Battle Orders.  All training and flying schedules are posted there.
For the first week your time will be spent in Orientation lecture periods, scheduled both morning and afternoon . They will include the primary Orientation Lecture, and then Group History, Theatre Orientation, Security and Censorship, Engineering and Personnel Equipment, Evasion and Escape, Armament, Communications, Briefing and Interrogation, Prisoner of War Procedure, and a Medical Lecture.  This training will be centered about S-2, Squadron Intelligence and the Line.  Each lecture will be a vital contribution to the element of safety in YOUR missions.  Listen and Learn.
During this Orientation week you will have learned the location of the various Squadron Units, the ranking personnel, and the one very important fact: along with Combat missions, an intensified ground and air training program is in effect.  Thus may in time become a drudgery, but a man must constantly be learning and practicing to be efficient in combat.  An inefficient man is as dangerous to YOU as is the enemy.  This training will include each of you until the time you finish your coir of duty.
An orientation flight will be scheduled for a new crew in order to familiarize them with the general area and to give them confidence after not having flown for several weeks.
As soon as possible, the first pilot will be scheduled for a combat mission as Co-Pilot, and will fly as such for about five missions, or until he is deemed satisfactory for combat.  The rest of the crew will also be checked out with experienced crews before they will fly together again as a team.  You must realize the value of experience, and do not hesitate to learn when flying with men who have many missions.
You will soon learn the varied differences between combat flying, and flying in the United States.  There is less red tape, but the rules, though fewer, are more clearly defined and must be followed, as more than one life is at stake.  A Tight formation is the primary MUST, as there will be more planes in the air then you have ever seen, and each plane has been designated to be exactly a certain place at a certain time.  You will hear what happens to stragglers.
____________________
THE MISSION

You now have a rough idea of the set-up.  And now what happens on the first mission?  What will it be like?
It starts the day before, with the Squadron being notified through channels by Air Force of what, will be demanded.  The Battle Order is made out by the Operations Officer and his assistants, and posted early in the evening.  The lead bombardier and navigator go to a pre-briefing at Group that night to receive general information about the target.
The C.O. awakens the men approximately one hour before briefing time to allow for breakfast.  Briefing time varies, but is usually between 0500 and 0600.  It is imperative that you are there at the scheduled time, as latecomers are fined.  Only the Pilot, Navigator, and Bombardier go to the main briefing.  The Radio Operator goes to a special briefing at Group.  The rest of the crew _____ and get the shop ready for the mission.  The Co-Pilot is in charge of supervising chocking the ship prior to the mission and is responsible for briefing the gunners on "Search and Fire Control".  The engineer will pick up rations for the entire crew at the moss hall before leaving the area.
All pertinent information is given at briefing.  Mimeographed sheets are given out containing items that you could not trust to your memory.  These sheets are classified Secret and must be returned at interrogation.  The Navigator will pick up the Escape Kits before briefing, and distribute them to the crow at the airplane.
Pilots leave after the general briefing, and bombardiers and navigators stay for special target information.
You will have had bins assigned in Personnel Equipment for your flying clothes.  Those you will draw along with electric suits and be taken; by truck to the ships.  The engineer will draw electric gloves for the entire crew.  Every man will be in position ten minutes before briefed taxi time, and each man should take it upon himself to see that his position has been checked and is dressed before that time.
When the bombardier and navigator arrive, the enlisted men will be briefed and given all pertinent information about the mission.  Do not neglect this.  Teamwork is essential and this can be accomplished only by having each member of the crew know what will happen during the flight.  Special emphasis should be placed on that days special escape procedure.  This crew briefing will be given out of hearing of anyone except your crew.  This is not a reflection on the integrity of the ground crews, but security must be maintained and ABSOLUTELY NO ONE WILL BE TOLD ABOUT THE MISSION UNTIL IT HAS BEEN COMPLETED.  In case of a scrubbed mission, nothing will be told about the briefed target.
Engines will be started before taxi time as seen as you see the lead ship starting up.  Starting at this point radio silence will be maintained unless in an emergency.  Listen closely to all radio calls, and follow instructions.
Your turn to taxi will come when you see the ship scheduled ahead of you taxi.  Do not waste time — follow him closely, but safely.  Prepare for take-off before you turn on the runway, and move up with the ships ahead to make room for the ships behind.  Take-Off will be at a MAXIMUM 30-second interval.  The longer the take-off interval, the longer it takes to join formation in the air.
After take-off the squadron lead ship will fly at 145 I.A.S., and will follow a specified pattern.  There is no need to build up on excessive airspeed, as cutting corners will bring you up much faster.  Attain safe altitude after take-off, and maintain it before joining.
After the Squadron has assembled, the Squadron lead will then be free to maneuver into position in Group Formation.  The Group Assembly will have a specified time and altitude over the field, and then altitude is gained for Wave rendezvous.  This will usually be near the Adriatic Coast, and the next and most important item to meet is Key Point.  Key Point is similar to a three-dimensional traffic crossing.  Wave traffic must be controlled here to give a clear route to the target.
From, rendezvous to Key Point the flight will be crossing into enemy territory, so all crew members will be at their position and on the alert.  Oxygen checks must be called regularly.  Guns will be test fired on orders from the Group Lead.
The route to the target is planned to avoid flak areas.  Mobile flak may be encountered with the changing war situation.  Enemy fighters may intercept at almost any point, so your tight position in formation should be gained at first and held constantly because of this threat.  A moment's relaxation in the air may moan your life and others.
Bombing altitude will be reached before the Initial Point, and airspeed, altitude,, and course of the lead ship must be held constant on the bomb run regardless of the flak or fighters.  It is at this crucial period that a tight formation is of the utmost importance.  A good bombing pattern is the result.  A target that is knocked out brings you one step further towards home.
There will be a turn after bomb away to Rally Point, and a slow let-down will be started.  However, altitude may be maintained to take advantage of tail winds.
Before reaching the Italian Coast, the pilot will give the order to clear all guns.
A good pool-off and landing is essential, as there are many ships that must land in a short time.  Ships in trouble have the highest priority, and formations have priority over single ships.
Interrogation is the next step, at Group Briefing Room.  All crew members will be present, and any gun that has not been cleaned before leaving the line will be cleaned after interrogation.  The navigator is responsible to see that all escape kits have been turned in.  The pilot will be responsible for the mimeographed briefing forms.
An intelligence officer will be the interrogator, and accurate reports are necessary for safe and well informed future operations.  The navigator will give weather information, and all crew members will give their reports on bomb strikes if seen.  All observations in the air should have been given to the navigator and noted in his log.
Your mission has been completed, coffee and doughnuts are there for you, and two ounces of whiskey awaits you at the dispensary.
Thirty-five missions is the present number to be flown on a tour of duty.
Do what is required the way it is required; do not under-estimate the enemy-rand above all, fly good formation and you will finish all thirty-five.
Not all your flying time will be obtained on combat missions.  An intensified air training program makes it necessary that every crow member knows the area for all training flights, and that al pilots know the facilities at hand for weather flying.
An orientation flight will be given for all new crews, giving them a picture of the area, and an idea of the radio facilities available.  On Combat missions, learn all good chock points in the Adriatic Area.
On practice flights, such as air-to-ground gunnery, or bombing, study your route beforehand, and ask questions until you KNOW what will take place, when-where-and how.
Study the following maps, which are also posted in Operations.  Carry a copy of the instrument let-down procedure on all local flights.
Practice flights include the following:
1.    Formation – Squadron and Group.
2.    Instruments and Instrument Calibration.
3.    Navigation.
4.    Practice Bombing and Camera Bombing.
5.    Slow Time on Engines.
6.    Ferry hops.
7.    Acceptance checks and test flights.
8.    Night Flying.
Make use of the time available to you, as it will improve your combat flying.
____________________
References
2nd Bombardment Association, at http://www.2ndbombgroup.org/
Rust, Kenn C., Fifteenth Air Force Story, Historical Aviation Album, Temple City, Ca., 1976