The "flavor" of an era is found in all manner of words and images.
Case in point, the following advertisement – seeking candidates for pilot, navigator, and bombardier positions in the Army Air Force – which appeared in The Philadelphia Inquirer on September 9, 1943.

The text of the ad – presented below, verbatim – evokes purpose and achievement, within a context of teamwork.  Patriotism is certainly implied, but that's secondary to both challenge and adventure.
Following the verbal "hook" (a well-written and meaningful hook, at that!) forming the core of the advertisement, information is presented about the practical steps of entering the Army Air Corps for qualification as a Pilot, Bombardier, or Navigator.
The artwork, depicting a B-17 pilot, is by Robert L. Benney, who, during his very lengthy career as a professional artist, served as a civilian correspondent with the armed forces during the Second World War, focusing on military activity at Saipan and the Marianas Islands.  Several powerful examples of Benney's work – which has a very distinctive, clearly recognizable style, in terms of visual texture, and the use of light and shadow – can be found at the website of the Naval History and Heritage Command.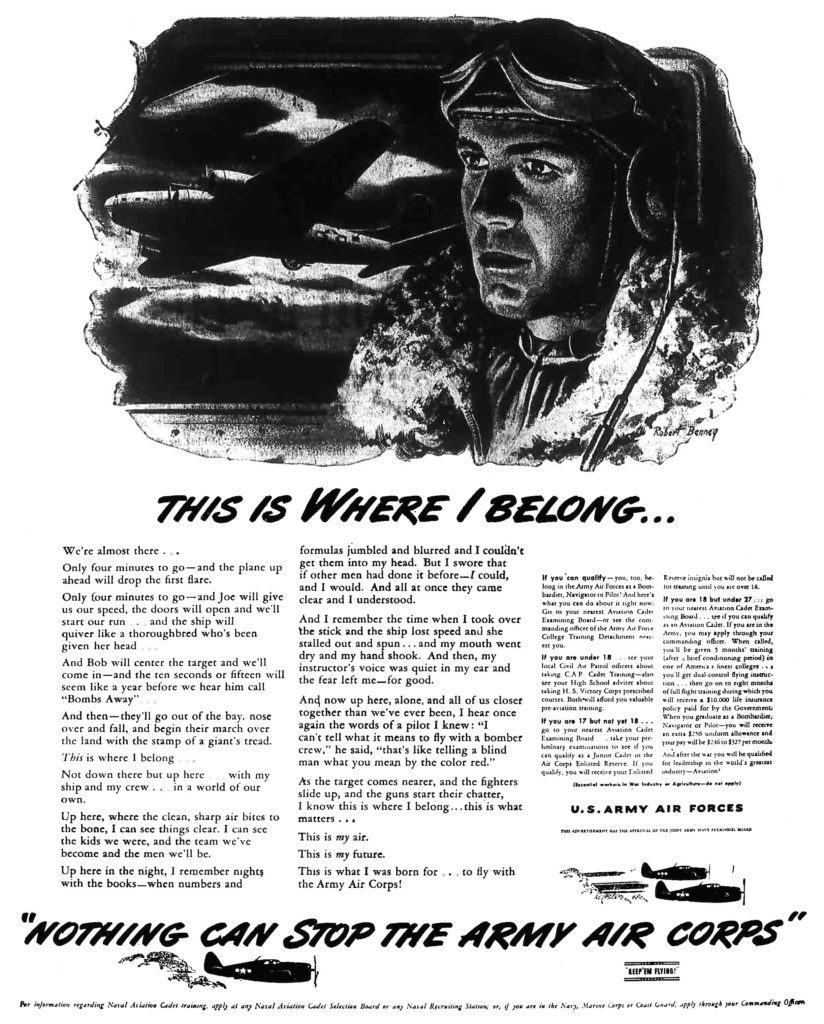 ____________________
THIS IS WHERE I BELONG…
We're almost there…
Only four minutes to go – and the plane up ahead will drop the first flare.
Only four minutes to go – and Joe will give us our speed, the doors will open and we'll start our run…and the ship will quiver like a thoroughbred who's been given her head…
And Bob will center the target and we'll come in – and the ten seconds or fifteen will seem like a year before we hear him call "Bombs Away"…
And then – they'll go out of the bay, nose over and fall, and begin their march over the land with the stamp of a giant's tread.
This is where I belong.
Not down there but up here…with my ship and my crew…in a world of our own.
Up here, where the clean, sharp air bites to the bone, I can see things clear.  I can see the kids we were, and the team we've become and the men we'll be.
Up here in the night, I remember nights with the books – when numbers and formulas jumbled and blurred and I couldn't get them into my head.  But I swore that if other men had done it before – I could, and I would.  And all at once they came clear and I understood.
And I remember the time when I took over the stick and the ship lost speed and she stalled out and spun…and my mouth went dry and my hand shook.  And then, my instructor's voice was quiet in my ear and the fear left me – for good.
And, now up here, alone, and all of us closer together than we've ever been, I hear once again the words of a pilot I knew: "I can't tell what it means to fly with a bomber crew," he said, "that's like telling a blind man what you mean by the color red."
As the target comes nearer, and the fighters slide up, and the guns start their chatter, I know this is where I belong…this is what matters…
This is my air.
This is my future.
This is what I was born for…to fly with the Army Air Corps!
If you can qualify – you, too, belong in the Army Air Forces as a Bombardier, Navigator or Pilot.  And here's what you can do about it right now.  Go to your nearest Aviation Cadet Examining Board – or see the commanding officer of the Army Air Force College Training Detachment neatest you.
If you are under 18…see your local Civil Air Patrol officers about taking C.A.P. Cadet Training – also see your High School adviser about taking H.S. Victory Corps prescribed courses.  Both will afford you valuable pre-aviation training.
If you are 17 but not yet 18…go to your nearest Aviation Cadet Examining Board to take your preliminary examinations to see if you can qualify as a Junior Cadet in the Air Corps Enlisted Reserve.  If you qualify, you will receive your Enlisted Reserve insignia but will not be called for training until you are over 18.
If you are 18 but under 27…go to your nearest Aviation Cadet Exam, using Board…see if you can qualify as an Aviation Cadet.  If you are in the Army, you may apply through your commanding officer.  When called, you'll be given 5 months' training (after a brief conditioning period) in one of America's finest colleges…a you'll get dual-control flying instruction…then go on to eight months of full night training during which you will receive as $10,000 life insurance policy paid for by the Government.  When you graduate as a Bombardier, Navigator or Pilot – you will receive an extra $250 uniform allowance and your pay will be $246 to $327 per month.
And after the war you will be qualified for leadership in the world's greatest industry – aviation!
(Essential workers in War Industry or Agriculture – do not apply)
U.S. ARMY AIR FORCES
THIS ADVERTISEMENT HAS THE APPROVAL OF THE JOINT ARMY NAVY PERSONNEL BOARD
 "NOTHING CAN STOP THE ARMY AIR CORPS"
Reference
Obituary for Robert L. Benney, at New York Times wesbite. (June 3, 2001)