In an earlier post – The Missing Photos: Photographic Images in Missing Air Crew Reports – I described the 58 Missing Air Crew Reports (MACRs) which include photographs. 
This post – covering two such MACRs – brings you an example of one of these images.  (One image for two MACRs?  I'll explain…)
The MACRs in question are numbers "5033" and "5032", covering two 416th Bomb Group A-20G Havoc light bombers.  Respectively, the Reports cover A-20G 43-10203 (5H * R), piloted by First Lieutenant Lucian J. Siracusa, and, 43-10206 (2A * F), piloted by First Lieutenant Allen W. Gullion, of the 668th and 669th Bomb Squadrons.  Both planes were lost during a mission to Amiens, France, on May 27, 1944. 
Fortunately, all six crewmen aboard the two planes parachuted safely, to spend the remainder of the war as POWs.
The circumstances under which the two planes were lost were identical.  Both Havocs were shot down by flak which struck their right engines – at an altitude between 11,300 and 11,500 feet – shortly after 1800 hours (local time), during the 416th's bomb run. 
The witnesses to the planes' loss – 1 Lt. Gustave Ebenstein, S/Sgt. Holley Perkins, and Sgt. S.P. Newell – the crew of A-20G 43-9907 of the 668th BS – were the same for both MACRs. 
The maps filed with the two MACRs show the last location of the Havocs as having been north of the Somme River. 
Specifically, Lt. Gullion's aircraft was north-northeast of Amiens / west-northwest of Albert, as seen in the map from MACR 5032: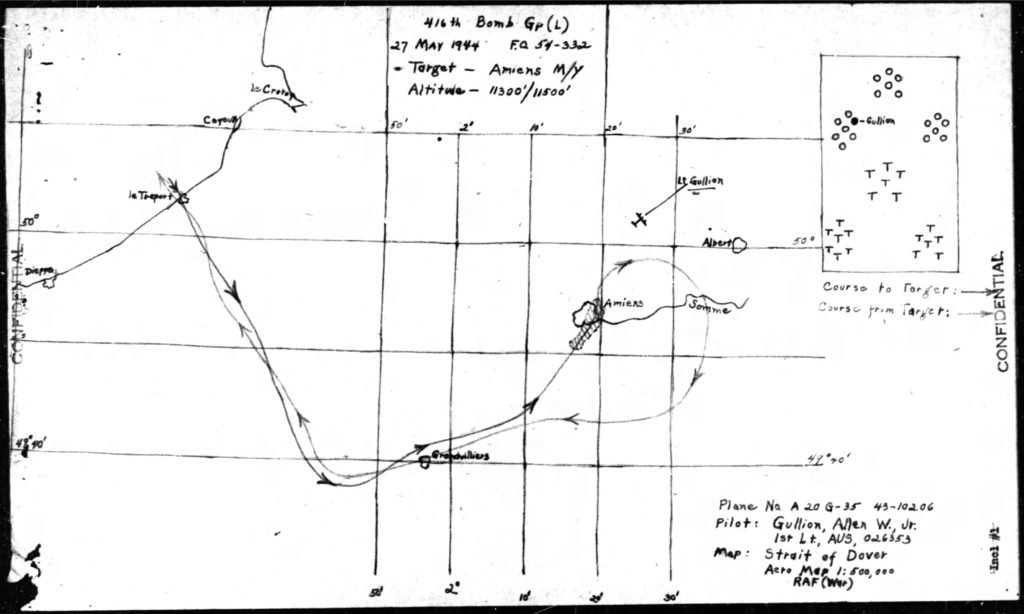 Lt. Siracusa's plane was last seen between Amiens and Albert.  In his postwar Casualty Questionnaire (the only such document in either MACR), he mentions that his plane crashed "10 miles west of Amiens".  The last position of his bomber is depicted in the map below, from MACR 5033: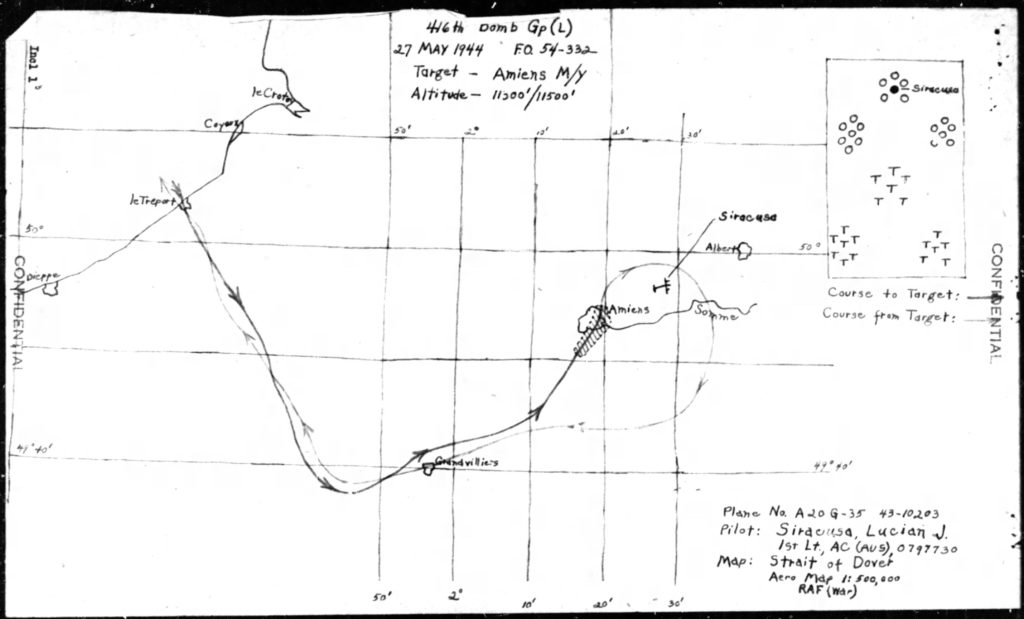 ___________________
On the "contemporary" side of things, Google maps of this region are shown below.  The first map shows northern France, specifically the locations of Amiens and Albert…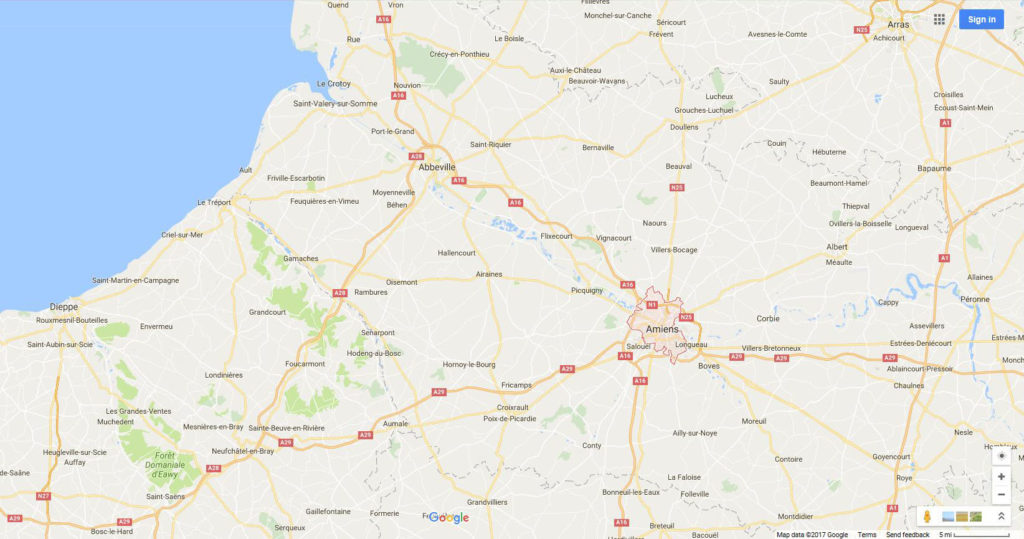 …while the map below shows the area between Amiens and Albert in more detail.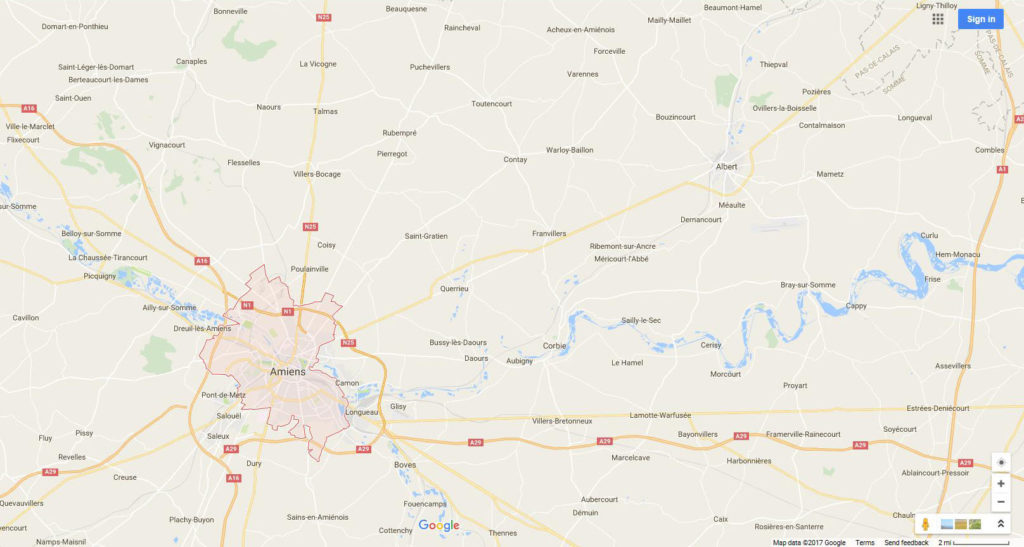 ____________________
But, what about the airmen themselves?  They were:
A-20G 43-10203 (MACR 5033 / KU 809A)
Pilot: 1 Lt. Lucian J. Siracusa                    POW (camp location unknown)
Mrs. Philomena Siracusa (mother), 325 13th St., Palisades Park, N.J.
Gunner: S/Sgt. James N. Hume                POW at Stalag Luft 4 (Gross-Tychow)
Mrs. Edith R. Hume (mother), South Side Road, York Village, Me.
Gunner: S/Sgt. Floyd E. Brown                POW at Stalag Luft 4 (Gross-Tychow)
Mrs. Evelyn G. Brown (wife), 9 Linden Ave., Moundsville, W.V.
A-20G 43-10206 (MACR 5032 / KU 807A)
Pilot: 1 Lt. Allen W. Gullion, Jr.                POW at Stalag Luft III (Sagan)
Mrs. Allen W. Gullion (wife), 3333 Rittenhouse St., Northwest, Washington, D.C.
c/o Mrs. Thomas Moorman
Gunner: S/Sgt. Gerald L. Coffey             POW at Stalag Luft III (Sagan)
Mr. George L. Coffey (father), Route Number Two, Dardanelle, Ak.
Gunner: S/Sgt. Grady F. Cope                POW at Stalag Luft 4 (Gross-Tychow)
Mrs. Myrtle V. Cope (mother), Route Number Two, Gould, Ok.
The Germans filed Luftgaukommando Reports for both crews, which – at least as Luftgaukommando Reports go! – contain only nominal information about the planes and crewmen.  Report KU 807A indicates that the crew of 43-10206 was captured at Vignacourt, while Report KU 809A, for 43-10203, mentions that Siracusa and Hume were captured at Bertangles, and Brown at Amiens.  
The somme-aviation-39-45 website reveals that 43-10206 crashed 1 kilometer west of Vignacourt, at Boise de Parisiens.  The website includes a remarkable series of images of the recovery of the plane's wreckage (in 2006) with added commentary, which is quoted below:

As described:
"L'excavation de Vignacourt a eu lieu le samedi 28 octobre 2006.  Les prévisions météorologiques laissaient craindre des averses mais finalement le travail pourra s'effectuer convenablement.  L'agriculteur a eu la gentillesse de différer ses semis à l'emplacement du crash afin de nous permettre d'effectuer les recherches.
"Le Boston IV A20 G du 416ème Bomber Group de la 9ème Air Force des USA a ainsi été retrouvé.

"Les deux moteurs, de type radial WRIGHT R-2600, ont été retrouvés à un peu plus de 2 mètres de profondeur, ce qui laisse à penser que le bimoteur, s'il n'est pas arrivé en vol rasant, a tout de même heurté le sol avec un angle faible.  Ces moteurs ont tous deux été brûlés et l'un des deux est d'un volume moindre car il a certainement été atteint par un obus de la DCA [Défense Contre Avions].  Nous avons également retrouvé quelques cylindres, également brûlés, dont nous pourrons extraire quelques soupapes qui semblent en bon état.

"Eu égard à l'emplacement des deux moteurs dans la terre, cet avion arrivait probablement du Sud / Sud-Est (trajectoire courbe à partir d'Amiens s'orientant vers Vignacourt se trouvant au Nord-Ouest d'Amiens).

"D'autres pièces ont également été retrouvées : les deux moyeux d'hélice tripale, 3 pales plus ou moins endommagées et très corrodées, des douilles de 12,7 mm brûlées.

"Quasiment toutes les pièces ont été brûlées et sont corrodées à cause de l'incendie de l'appareil.

Translation?

"The excavation of Vignacourt took place on Saturday, October 28, 2006.  The weather forecasts threatened showers but eventually the work could be done properly.  The farmer was kind enough to postpone his seeding at the crash site to allow us to do research.
"Boston IV A-20G of the 416th Bomb Group of the 9th Air Force of the United States has been recovered.
"The two engines, Wright R-2600 radials, were found at a depth of a little more than 2 meters, which suggests that the twin-engined [aircraft], if it has not [landed] in flight, nevertheless struck the ground at a low angle.  These engines were both burned and one of the two is of lesser volume as it was certainly hit by an anti-aircraft defense shell.  We also found some cylinders, also burnt, from which we could extract some valves that seemed in good condition.
"In view of the location of the two engines in the ground, this aircraft probably came from the South / South-East (curved trajectory from Amiens to Vignacourt, northwest of Amiens).
"Other parts have also been found: the two three-bladed propeller hubs, 3 blades more or less damaged and very corroded, burned 12.7 mm shells.
"Almost all the parts had been burned and are corroded because of the fire."
All well and good, and genuinely good:  All six men returned. 
____________________
Other 9th Air Force A-20 losses that day, with relevant MACR and Luftgaukommando Report numbers, comprise the following:
409th Bomb Group
43-9694, 640th BS, piloted by 2 Lt. Raymond L. Gregg (3 crew; no survivors) – MACR 5086; KU 1997
43-9446, 640th BS, piloted by Capt. Leland F. Norton (4 crew; 2 survivors) – MACR 5087; KU 1992
410th Bomb Group
43-9665, 646th BS, piloted by 1 Lt. Richard K. Robinson (3 crew; 2 survivors) – MACR 5046; KU 1993
43-10218, 647th BS, piloted by 2 Lt. Warren A. Thompson (3 crew; all survived) – MACR 5037; KU 1996
416th Bomb Group
43-9983, "2A * J", 669th BS, piloted by 2 Lt. Harry E. Hewes (3 crew; all survived) – MACR 5035; KU 1977
____________________
But, what about the photos…? 
That's where things become interesting. 
Both MACRs include a photograph of the two damaged planes falling below and behind the 416th's formation.  A comparison of both pictures (not possible via Fold3) shows that the images are actually identical, having been printed from the same negative.  The only difference is that the photographic print in MACR 5032 – notably darker than that in MACR 5033 – was presumably developed (by the 416th BG photo lab?*) longer.  The notations at the bottom of the image in MACR 5033, such as focal length of 6 3/8", probably argue for this being the "original" print.
But, what about the photos…? 
That's where things remain interesting.
For a photograph taken under combat conditions – very likely by an automatic camera, at that – it's actually a very good photo.  By sheer luck, the "focus" of interest – the two mortally damaged A-20s – are situated within the center of the image.  From the towns, forests, and farms on the earth below, to the 23 (ugh!) flak bursts in the upper left, to the four A-20s in flight, the resolution and clarity are excellent.  
Beyond this, the picture imparts an impression of depth (well, there was over 11,000 feet of "depth" beneath the planes), as if the viewer is not only looking at the four A-20s, but looking through and beyond them, as well. 
And ultimately, in this year of 2017, we are not only looking through space, but into the past.   
And with that discussion – oh, yes! – here are the pictures….

____________________
The MACR for Lt. Siracusa's bomber, first…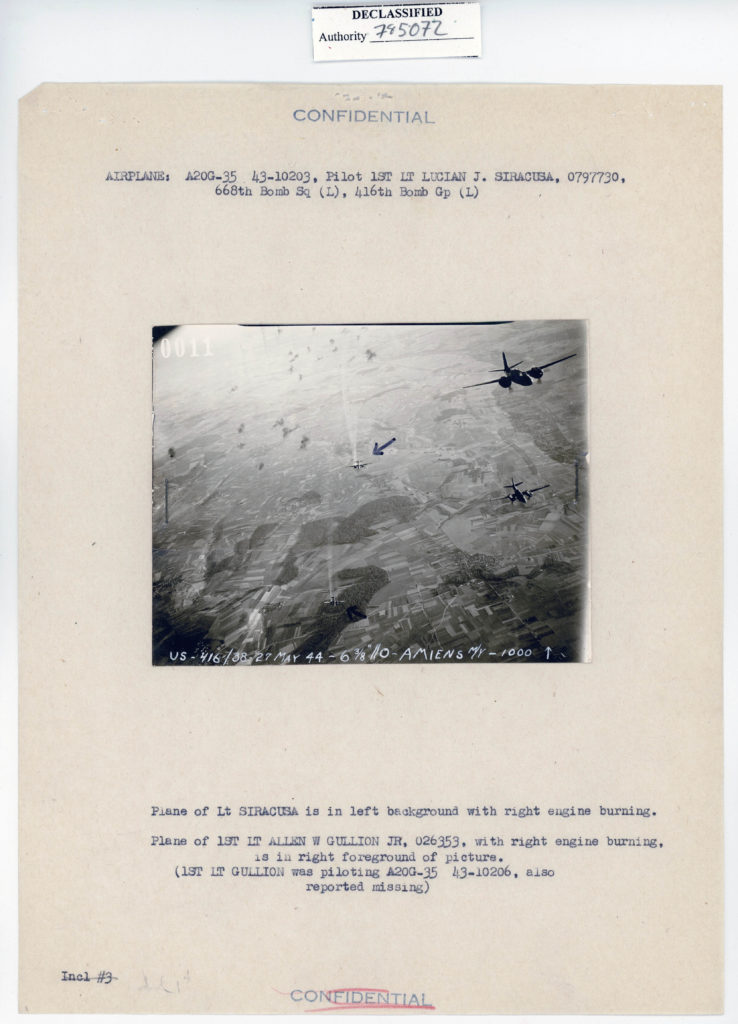 Here's how the image looks in the actual MACR.  Both the photographic print and the original documents comprising the MACR are in excellent condition.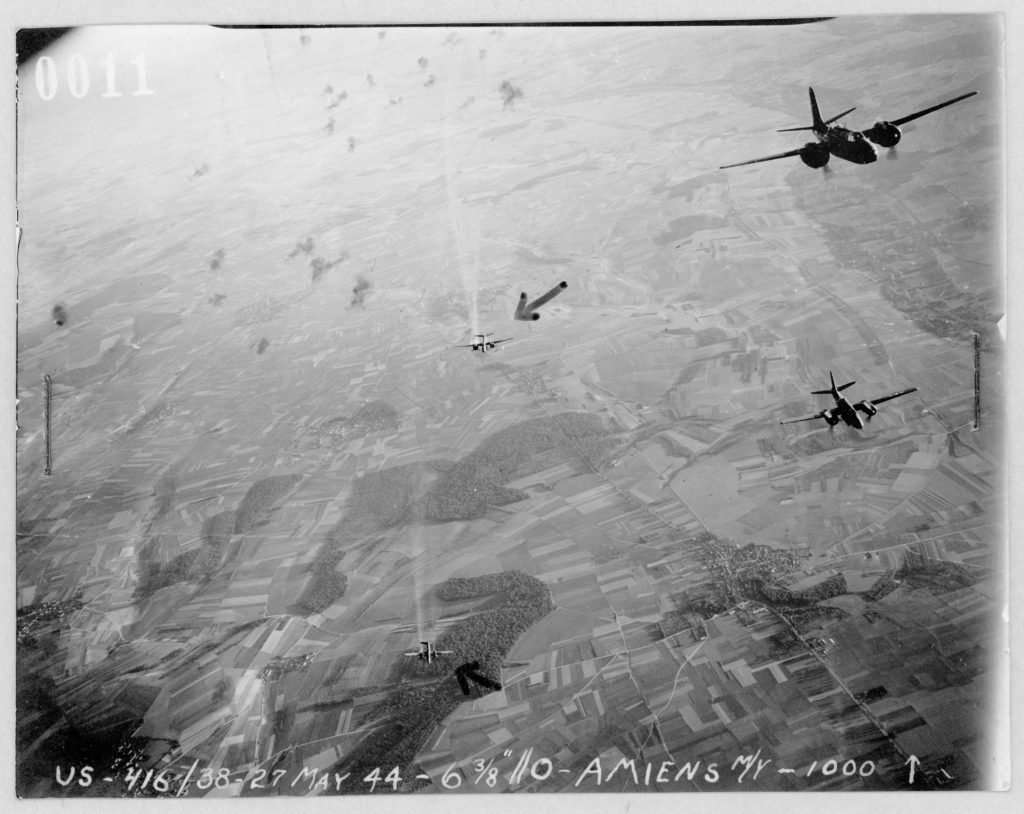 Here's the photograph itself, scanned at 1200 dpi.  Notice information at the bottom of the image covering date of mission, focal length of camera, and target. 

The image once more, scanned at 2400 dpi, and cropped.  The arrow is pointing to Lt. Siracusa's plane.  The fire enveloping his starboard nacelle is striking, even from a distance.   
____________________
And now, the MACR for Lt. Gullion's plane…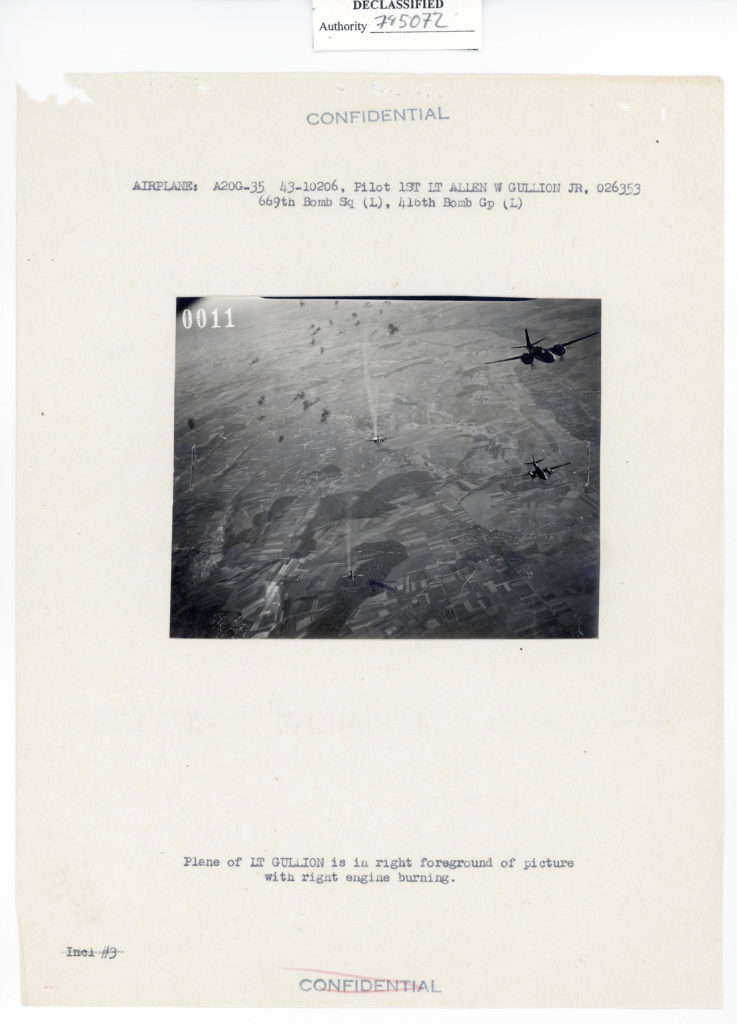 As before, here's the print as it appears in the MACR.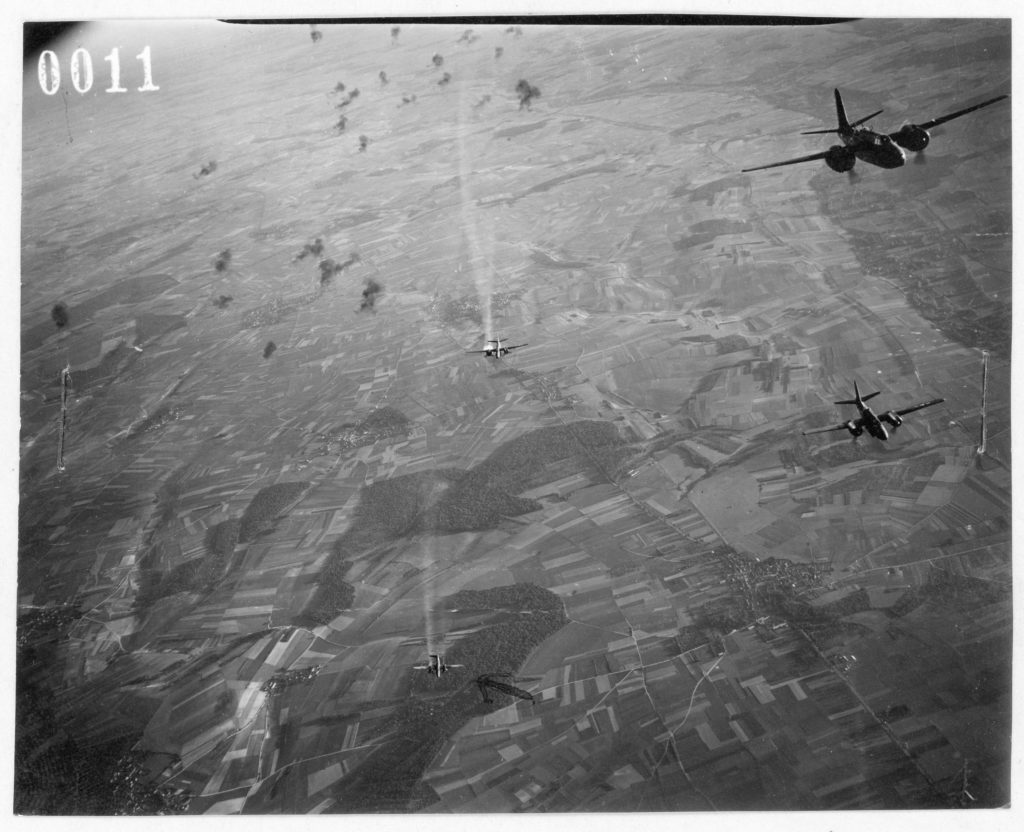 And, the image itself, at 1200 dpi.  Notice the obvious differences from the image in the previous MACR.  No information has been recorded on the print.  The photographic developing process brought out background details richly and deeply. 

Zooming in at 2400 dpi.  The arrow points to Lt. Gullion's Havoc  This cropped view shows both their smoking (and burning!) starboard engines quite clearly, with the canopy and dorsal turret of Lt. Gullion's plane being readily visible.

____________________
I hope to bring you more MACR photos in the future.
– Michael G. Moskow
Acknowledgements and References
     Further information about the 416th Bomb Group can be found at the extraordinarily comprehensive 416th Bomb Group website, which covers the Group's history and activities in a depth and breadth rarely found among most other websites covering Army Air Force Combat Groups.  (Examples: The 416th BG website includes detailed information about men wounded or injured.  Similarly, it includes combat mission loading lists.  Such details are unusual, and moreso, unusually valuable.)

416th Bomb Group Mission of 27 05 1944 to Amiens, at http://www.416th.com/missions/mission58.html
France-Crashes 1939-1945 website, (Daniel Carville), at http://francecrashes39-45.net/index.php
A-20G 43-10206 (at France-Crashes website), at http://francecrashes39-45.net/page_fiche_av.php?id=1848
Somme Aviation website, at http://www.somme-aviation-39-45.fr/index_.html
Recovery of wreckage of A-20G 43-10206, at http://www.somme-aviation-39-45.fr/pages-dossiers-decouverte/boston-iv-a20-g-vignacourt-27-mai-1944/boston-a-20g-vignacourt-27-mai-1944.html
____________________
*Photo lab?  Hey, what's a photo lab?