This WW II-era advertisement from New York Telephone is a reminder of the enormous changes in the nature, quality, and ease electronic communication compared with prior decades.  What was formerly limited – in time and distance – is now near-ubiquitous; near-instantaneous.

Like the other New York Telephone ad displayed at this blog, the "center" of this advertisement features a telephone operator wearing a headset and microphone.

The text (presented below) is accompanied by sketches of a soldier, a businessman or professional in a managerial position, a younger businessman or factory manager, a clergyman, and, the national capital. 
Of particular interest in the ad are the rotary (!) telephone and stopwatch.  The message:  "Time is limited."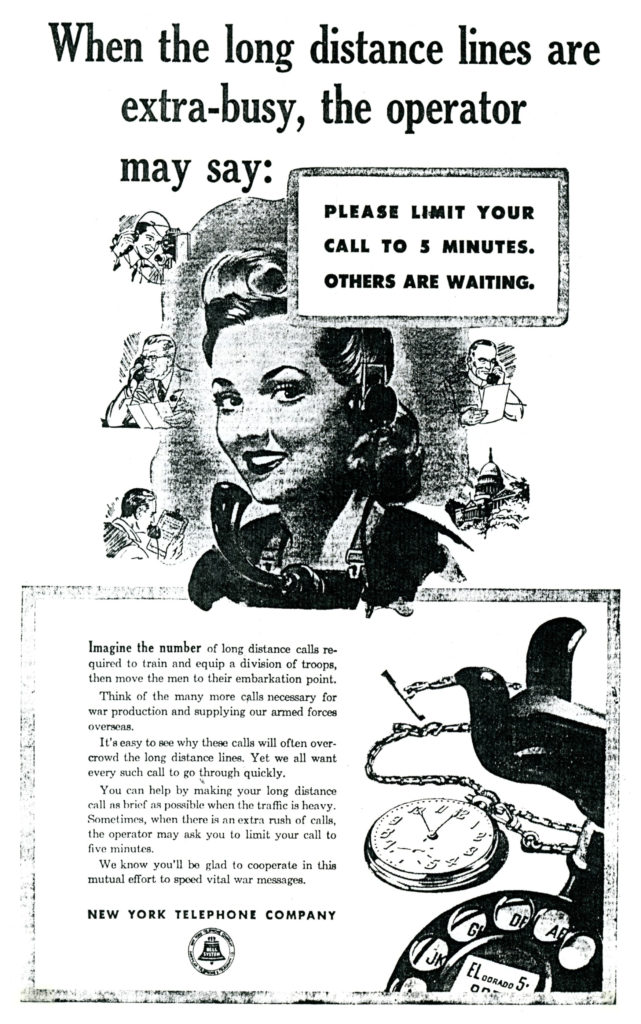 Imagine the number of long distance calls required to train and equip a division of troops, then move the men to their embarkation point.
Think of the many more calls necessary for war production and supplying our armed forces overseas.
It's easy to see why these calls will often overcrowd the long distance lines.  Yet we all want every such call to go through quickly.
You can help by making your long distance call as brief as possible when the traffic is heavy.  Sometimes, when there is an extra rush of calls, the operator may ask you to limit your call to five minutes.
We know you'll be glad to cooperate in this mutual effort to speed vital war messages.
NEW YORK TELEPHONE COMPANY