Before NCR was "NCR", the company was appropriately known as the National Cash Register Corporation. After having been acquired by ATT in 1991, a 1996 restructuring of that firm led to the spin-off Lucent Technologies and NCR, with the firm being the only "spun-off" company that has retained its name.

This advertisement, from August 9, 1943, illustrates the company's National Class 3000 Bookkeeping Machine.

The advertisement is quite simple in style and design.  A sketch of a model using an NC 3000 is repeated four times in the same illustration, giving an impression of "depth" and activity as in – well, quite appropriately! – an office setting.  An example of a neatly completed bill appears in the background.  
The full text of the advertisement appears at bottom.  Note the use of alpha-numeric telephone number prefixes ("CIrcle", "MOtt", and "CAnal").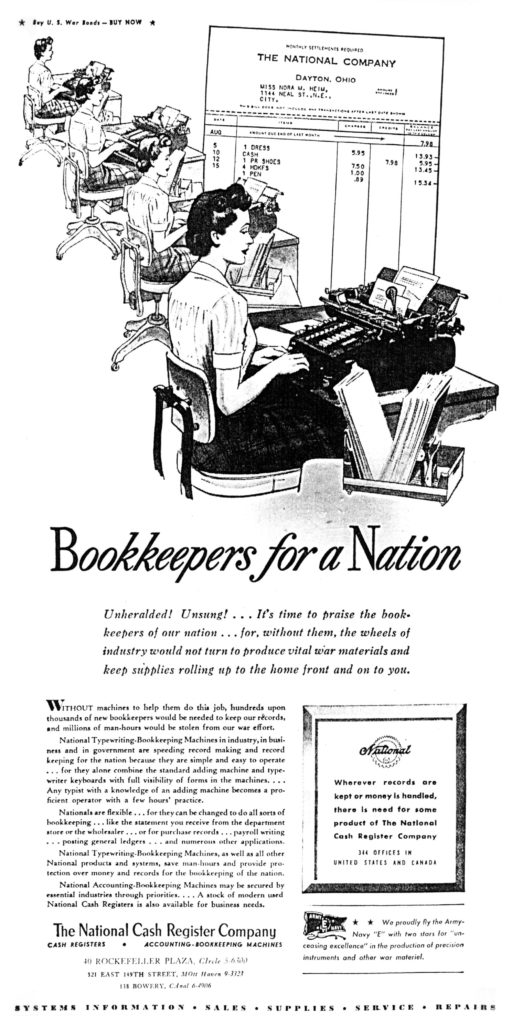 Here's an illustration of an NC 3000 from the Office Museum website: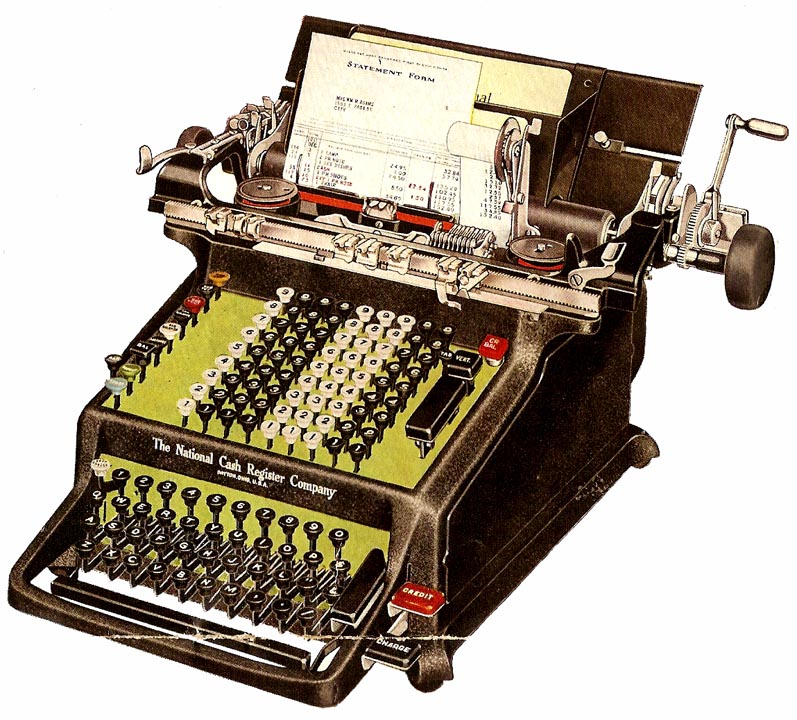 These two images – showing the front and rear of an NC 3000, on its stand – are from the Smithsonian's Museum of American History website.  This example was manufactured in 1938 or 1939.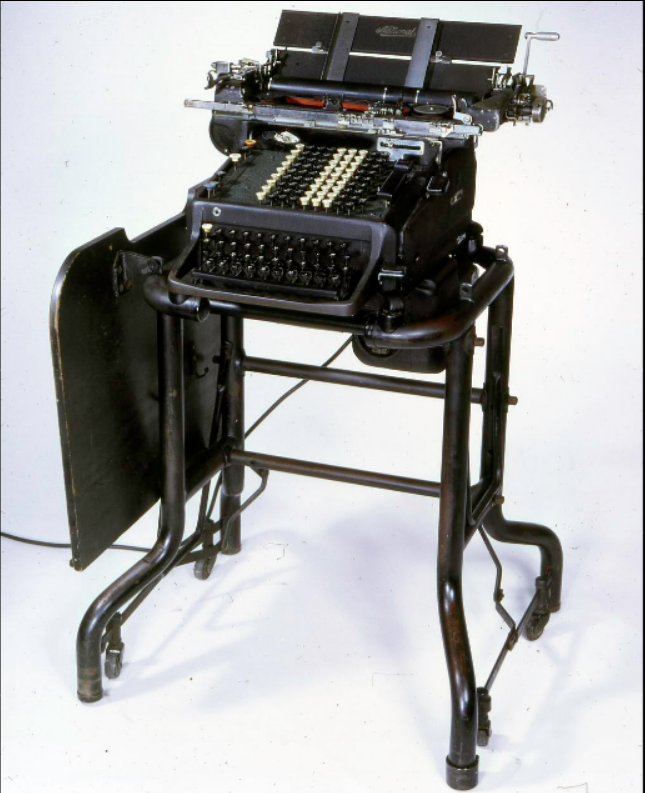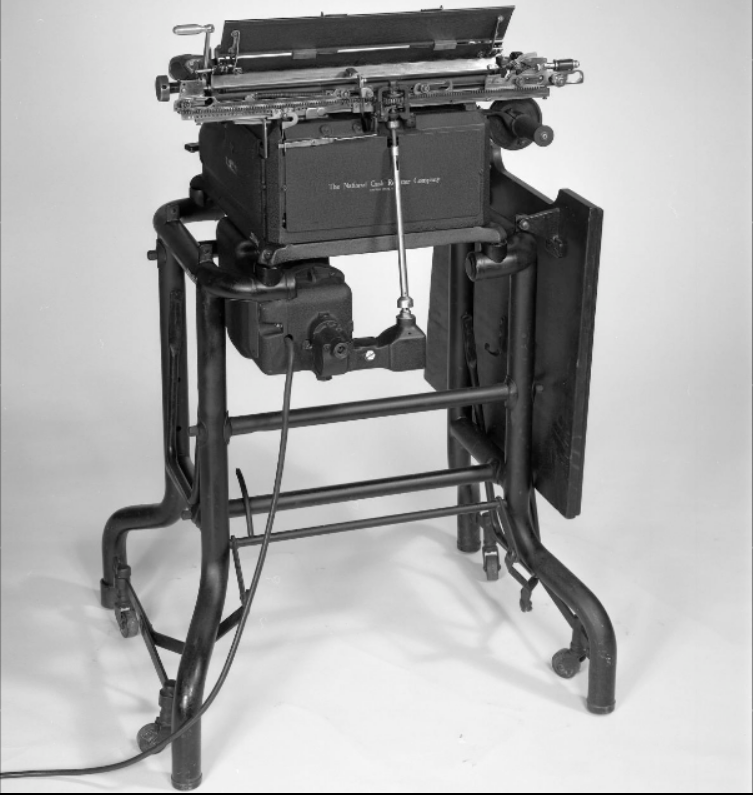 Without machines to help them do this job, hundreds upon thousands of new bookkeepers would be needed to keep our records, and millions of man-hours would be stolen from our war effort.
National Typewriting-Bookkeeping Machines in industry, in business and in government are speeding record making and record keeping for the nation because they are simple and easy to operate…for they alone combine the standard adding machine and typewriter keyboards with full visibility of forms in the machines…  Any typist with a knowledge of an adding machine becomes a proficient operator with a few hours' practice.
Nationals are flexible…for they can be changed to do all sorts of bookkeeping…like the statement you receive from the department store or the wholesaler…or for purchase records…payroll writing…posting general ledgers…and numerous other applications.
National Typewriting-Bookkeeping Machines, as well as all other National products and systems, save man-hours and provide protection over money and records for the bookkeeping of the nation.
National Accounting-Bookkeeping Machines may be secured by essential industries through priorities…  A stock of modern used National Cash Registers is also available for business needs.
The National Cash Register Company
CASH REGISTERS * ACCOUNTING – BOOKKEEPING MACHINES
40 ROCKEFELLER PLAZA, CIrcle 5-6300
321 EAST 149TH STREET, MOtt Haven 9-3323
138 BOWERY, CAnal 6-4906
References
Early Office Museum – Antique Special Purpose Typewriters, at http://www.officemuseum.com/typewriters_office_special.htm
Mathematical Treasure: National Class 3000 Bookkeeping Machine on Stand, at http://americanhistory.si.edu/collections/search/object/nmah_694189
NCR Corporation, at https://en.wikipedia.org/wiki/NCR_Corporation
National Museum of American History – Bookkeeping Machines, at http://americanhistory.si.edu/collections/object-groups/bookkeeping-machines/national