The central focus of literature about military aviation has traditionally revolved around the men – the aviators – who fly and fight within combat aircraft. 
Accounts concerning a less acclaimed but still vital aspect of aerial warfare – the maintenance and repair of military planes – are far fewer in number.  But, regardless of the conflict, country, or military force, the maintenance, modification, and repair of military aircraft has been an essential aspect of combat flying since the inception of military aviation. 
____________________
This post covers one such example.  It's an interrogation transcript of a Japanese Petty Officer First Class who served in the 751st Naval Air Unit (3rd Maintenance Unit, to be specific) at Vunakanau, Rabaul, from September of 1943 through February of 1944.  He was captured by an American destroyer after the two naval transports on which he was successively a passenger – the Kokai Maru, and Nagaura Maru – were sunk in late February of 1944.  His interrogation transcript presents an interesting and detailed account of his service as a mechanic on G4M Betty bombers, his activities including adjustment of propellers and engine electrical wiring, with his specific duty being servicing carburetors. 
His position as an engine mechanic in the 751st, coupled with having been stationed at Vunakanau (he was present during a 5th Air Force strafing attack against that airdrome in October of 1943), his observations of Japanese military aircraft, and aspects of his military service such as his observations of Allied POWs, open an unusual window upon the history of the Pacific Air War.     
Unfortunately, the man's name is not given, but the document does provide a few clues about his background.  Born on May 5, 1920, in Toyohashi (Aichi Prefecture, on Honshu), he completed six years of primary school and two years of higher primary school (equivalent of American 8th grade)?, and worked as an assistant at a silk cocoon and silk thread processing farm. 
Were he alive today, he would be 97 years old. 
____________________
The Report was discovered at the National Archives at College Park, Maryland, where – listed as Interrogation Report No. 357 – it's one of the 783 ATIS (Allied Translator and Interpreter Services) Interrogation Reports of Japanese Prisoners of War, which date from September of 1942 through September of 1945.
Importantly…  A list of titles of the specific titles of all ATIS Interrogation Reports can be found at the website of Japan's National Diet Library.  This is an invaluable resource, for along with the Report Number, it lists the identity of the military unit to which the captured POW belonged, and even in some cases the name of the POW. 
____________________
Given that the interrogating officer placed special emphasis on radar carried by G4M bombers, this post includes some of the very few images available of the components and features of the Type 3 Ku-6 radar system.  (Now, where does one find the instruction manual for the Ku-6?!) 
I've transcribed the Interrogation Report, which is available for you here, in PDF format. 
Paralleling the original physical document, the PDF includes four representative sketches drawn by the POW, showing characteristics of the Kyushu Shiden, the modified tail gun position of the G4M bomber, and the configurations of the nose and tail antenna installations of the Ku-6 radar.  Note that the POW illustrated the nose radar antenna as projecting "whisker-like" – perpendicular – from the fuselage.  However, the images below show the Ku-6 nose antenna as a single mast extending forward from the bomber's nose, with smaller antenna extending to both sides of the main mast.

____________________
Here are images of the first two sheets of the Interrogation Report, complete with NARA's declassification sticker at the top.  The first image illustrates the supplementary handwritten notes, and stamps, and signature on the original document.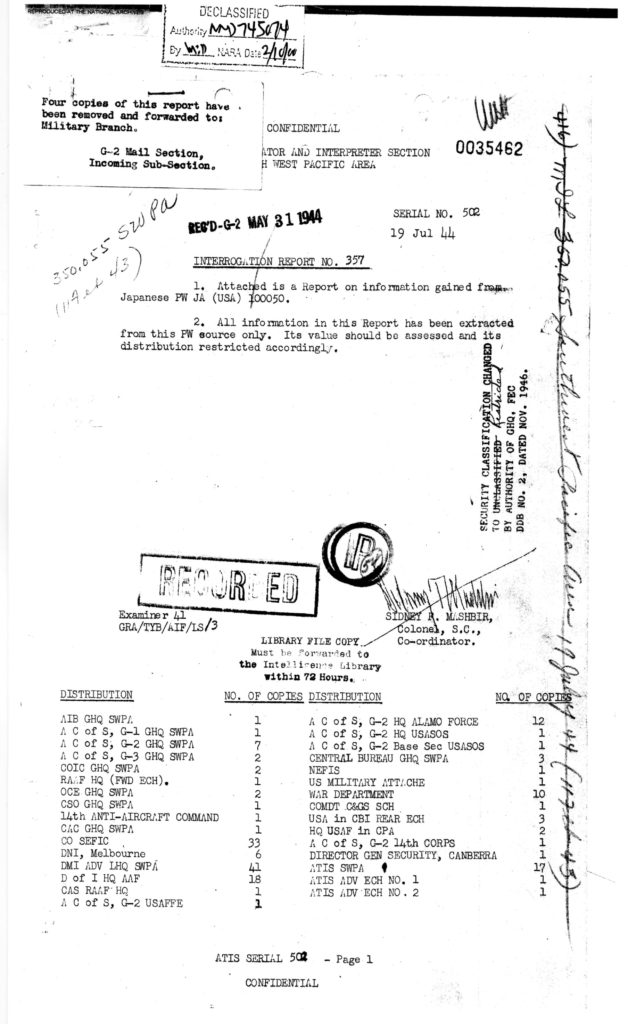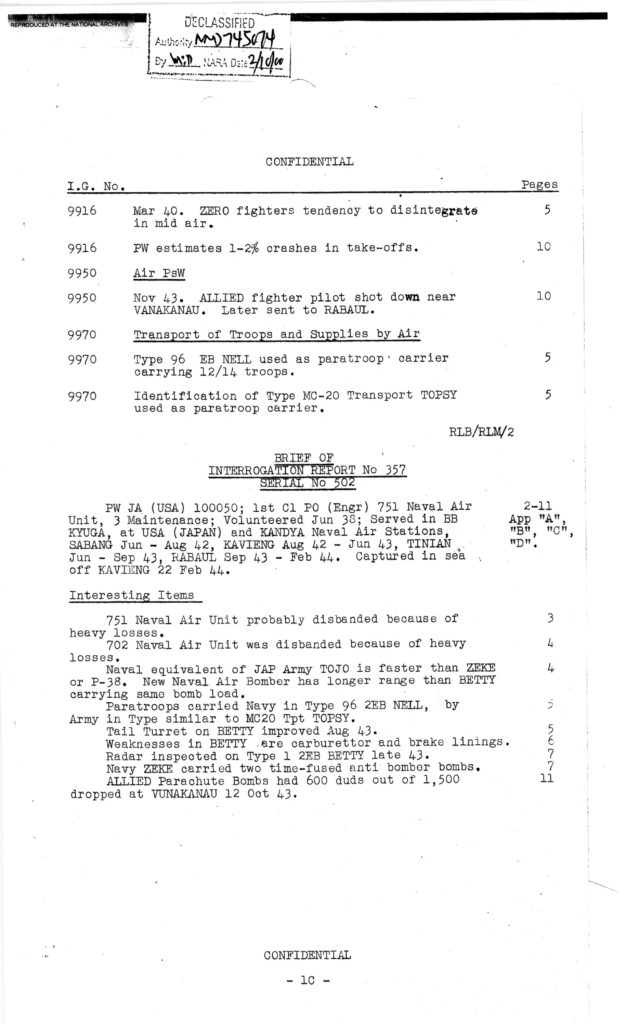 Excerpts from the text of the document follow below…
____________________
Designation and Markings of the 751st Naval Air Group
4. UNIT OR FORCE

751 Naval Air Unit     PW believed 751 Naval Air Unit would have been disbanded by now because of severe losses.  When unit arrived at RABAUL, Sep 43, it had about 40 airplanes.  Owing to ALLIED raids, Unit had only 20/25 airplanes in Jan 44, and by Feb 44 only 15 were left.  On 19 Feb 44, he heard all remaining airplanes were sent on a special suicide mission against ALLIED Naval forces then attacking either TINIAN or TRUK.  PW doubted that any survived.
Change in Tail Markings of 751 Naval Air Unit

At KANOYA – Apr 42  Tail marking was K-300 series in white numbers on dark green background.  Thought the K stood for KANOYA.
At KAVIENG – Aug 42  Unit name was changed from KANOYA Naval Air Unit to 751 Naval Air Unit and marking was changed simply to the 300 series, the K being dropped.  Numbers were painted in white.
At TINIAN – Jun 43  The marking was changed to read Z2 followed by 300 series in white.
At RABAUL – til Nov 43  The marking was changed back to simply the 300 series painted in
white, Z2 being dropped.
At RABAUL – from Dec 43 on  The marking was altered to 51 followed by 300 series.  Thought 51 possibly referred to the last two digits of 751.  Thought tail marking was changed on Units' arrival at each new base.
Unit Losses  (See Sec 7, "Modification of BETTY Tail Turret")
____________________
Information about Kawashini N1K2 Shiden Fighter Plane;
Possible Reference to Mitsubishi Ki.67 Type 4 Hiryu Bomber
7.  SHIPS AND AIRPLANES

Super Fighter     (KYOKUCHI SEN) (#1) (See Appendix "A").  PW had not seen it but another maintenance man who arrived at RABAUL from JAPAN (Feb 44) told him about this airplane and drew him a sketch.  PW thought KYOKUCHI SEN was only a factory name and that Navy might already have given airplane another name.
Following are particulars he heard:
Type     Fighter pursuit ship (TSUI GEKI KI) said to be much faster than the ZEKE or the P-38 and thought it was the Navy equivalent of the Army TOJO because he recognized similarities when shown a photo of the TOJO.
Construction     Slightly larger in all dimensions than the ZEKE and silhouette from side was "fatter".  Cockpit was set well back (about middle of fuselage).
Engine     KASEI, of about 1300 HP.
Performance     Could climb very fast and maintain a steady climb at an angle of about 40o.  It required as much runway to take off as did the ZEKE.  Not capable of more than four or five hours' continuous flight.
Armament     13 mm MGs and 20mm machine cannon.
Propellers     Either 3 or 4 blade.
Manufacturer     Possibly KAWANISHI.  It was originally produced as a float airplane fighter and when tested showed excellent speed, manoeuvrability and climb.  Better results were obtained in tests with undercarriage changed to ordinary ground landing gear.  It was then decided to make slight modifications and produce it as a regular Navy pursuit ship.
General     When first produced in quantity and delivered to Naval Air Units in JAPAN it was used in training.  However, because of its frail construction it many times disintegrated in the air, so was temporarily banned from Service about end 43 or beginning of 44, but after it had been reinforced it was used again.
Y20     While at RABAUL PW heard of a new Naval Bomber called Y20 or Land Bomber (RIKU BAKU) which was a cross between Type 96 2EB NELL Mk 2 and Type 1 2EB BETTY.  It was said to be smaller and much faster than BETTY, carrying a crew of only three or four.  It could carry the same bomb load but fly a greater distance than BETTY and was equipped with 13mm MGs.  Heard it was made by MITSUBISHI and used by some Naval Air Units.
PW thought Y20 was the factory number, and had never heard of its official name.
____________________

Modification of G4M Tail Turret
Modification of BETTY Tail Turret     About Jan 43 while 751 Naval Air Unit was at KAVIENG twenty BETTYs went on a bombing mission to GUADALCANAL, and only six returned.  Airmen who returned complained that revolving tail turret of BETTY was so sluggish and difficult to operate that they were unable to cope with ALLIED fighters, which concentrated their attack on their tail.
Unit therefore effected an immediate improvement by cutting away part of the tail turret to allow freer action of tail gun, although such modification made the airplane at least two or three knots slower.  They simply cut the section right off and did not add any supporting brackets, or covering shield.  The tail was left entirely open, allowing the gunners full traverse of the rear gun. (See Sketch 1 Appendix "B").
While at TINIAN, Aug 43, about ten new BETTYs arrived for the Unit and they all had improved tail turrets allowing freer action of the rear gun.  The modifications had been effected at the factory in JAPAN, and observed from the top, the tail turret had a "V" shaped section cut away.  This type of turret was also entirely open.  (See Sketch 2, Appendix "B").

____________________
An American POW at Rabaul
(Probably 1 Lt. Bernard E. Sahl of VMF-223, shot down over Vunakanau in F4U-1 57464 on December 25, 1943; Severely burned; mentioned in Report by Lt. John M. Arbuckle; Held captive by 81st Naval Guard Unit; "executed" (euphemism…) while POW, probably mid-1944)
13.  MORALE AND PROPAGANDA

JAP Prisoners of War       PW had heard that at NOMONHAN, one complete SENDAI Unit, about 2,000 men, was captured by the RUSSIANS.  When the truce was made, those men were returned to JAPAN.  Unit CO committed suicide and it was arranged for the 2,000 men to be sent back to MANCHURIA, rather than to allow then to remain in JAPAN.
ALLIED PsW     On Air Objective Folder No. 92.2 SINGAPORE, PW located an ALLIED PW camp holding thousands of prisoners, as being immediately North of Empire Dock Area. (Target 12).  While on a six-hour leave (Apr 42), he had seen three large, two storey barracks, each capable of housing 500 to 600 men under JAP Army standards.  White PsW could be seen at the windows and one stood guard at the front of the barracks.  There was no fence or wall around camp.
Aug 42, while KATSURAGI MARU was docked at Target Area 11 for three days, PW saw white prisoners crossing by boat to BLAKANG MATI Island just off the Southern tip of SINGAPORE Island.  They did not seem to be working.  They wore light khaki clothing.
In Nov 43, a Fighter was shot down near a native village near VUNAKANAU airfield.  Pilot was brought by natives to HQ 751 Naval Air Unit.  As there was no interpreter present prisoner was sent to RABAUL.  PW heard that prisoner was a Capt.  He was about 5'7" tall and heavily built.  He wore no rank badges but on the sleeve of his flying suit was yellow or gold badge on a black or blue background.  The pilot was uninjured except for burns on the face.
He had seen ALLIED PsW working around RABAUL.  It was not customary to guard them since they could be quickly identified if they attempted to escape.
____________________
Here's an image of G4M1 Betty "367" which the POW – perhaps? – may actually have seen and maintained.  The aircraft belongs to the 751st Naval Air Group, and was photographed during the 345th Bomb Group's strafing attack against Vunakanau on October 24, 1943.  The image is one of several pictures of 751st NAG G4M bombers appearing in Lawrence Hickey's Warpath Across the Pacific.  Six of these aircraft carry three-digit tail numbers, the leading digit being a "3".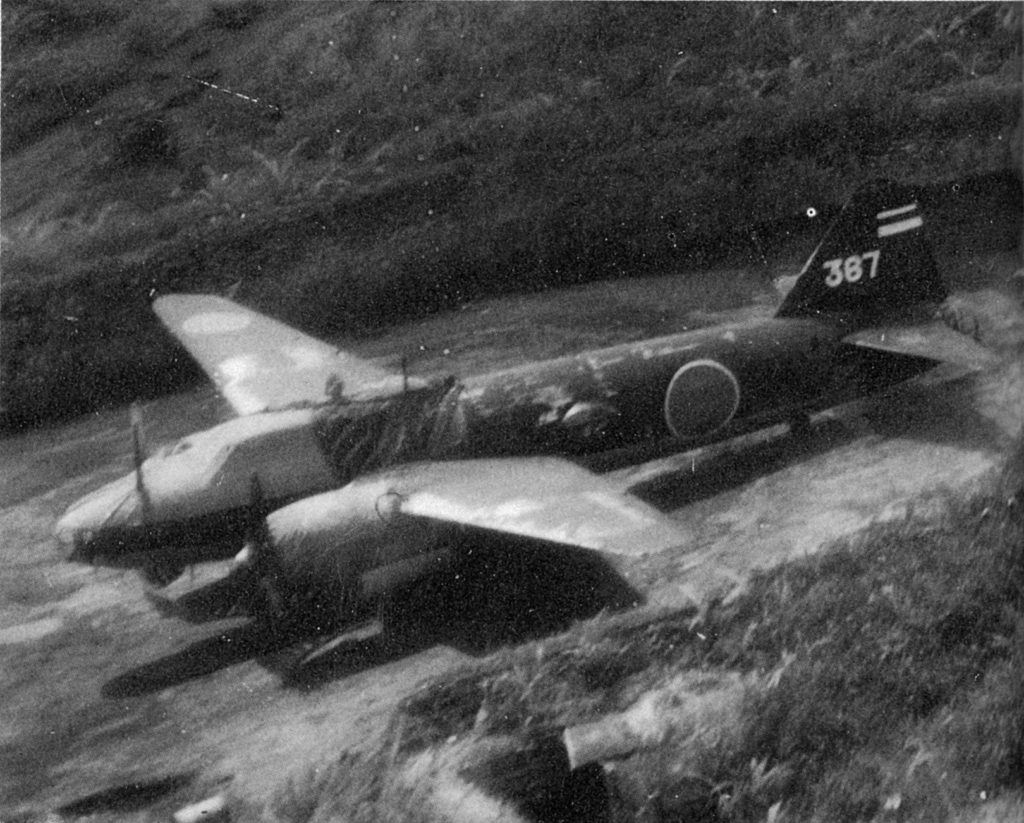 ____________________
The interrogation accorded much attention to the Type 3 Ku-6 radar carried in the G4M bomber.  The following three images, from the USAAF photo collection at Fold3.com, show a G4M2a bomber equipped with this device, as well as other notable aspects of the G4M2.  This aircraft – 763-12 – is the subject of a three-view illustration in William Green's 1969 book Famous Bombers of the Second World War. 
____________________
Photographed at Clark Field in 1945, aircraft number "12" of the 763rd Kokutai is shown under examination by members of the Air Technical Intelligence Division of the Army Air Force, with Sergeant H.W. Willis (from Beckley, West Virginia) prominently appearing in two of the images. 
The photo caption for this image (A-68394 AC / A30416) states that the aircraft had been strafed by P-51s but was not badly damaged.  Sergeant Willis is standing next to the port gun window.  The portly yet nicely streamlined shape of the fuselage is quite apparent, as are the dorsal and tail mounted Type 99 cannon mounted in those positions.  Also visible are the radar antennas mounted in the tip of the nose, and, alongside the rear fuselage.  The latter is entirely consistent in configuration with the description given by the POW.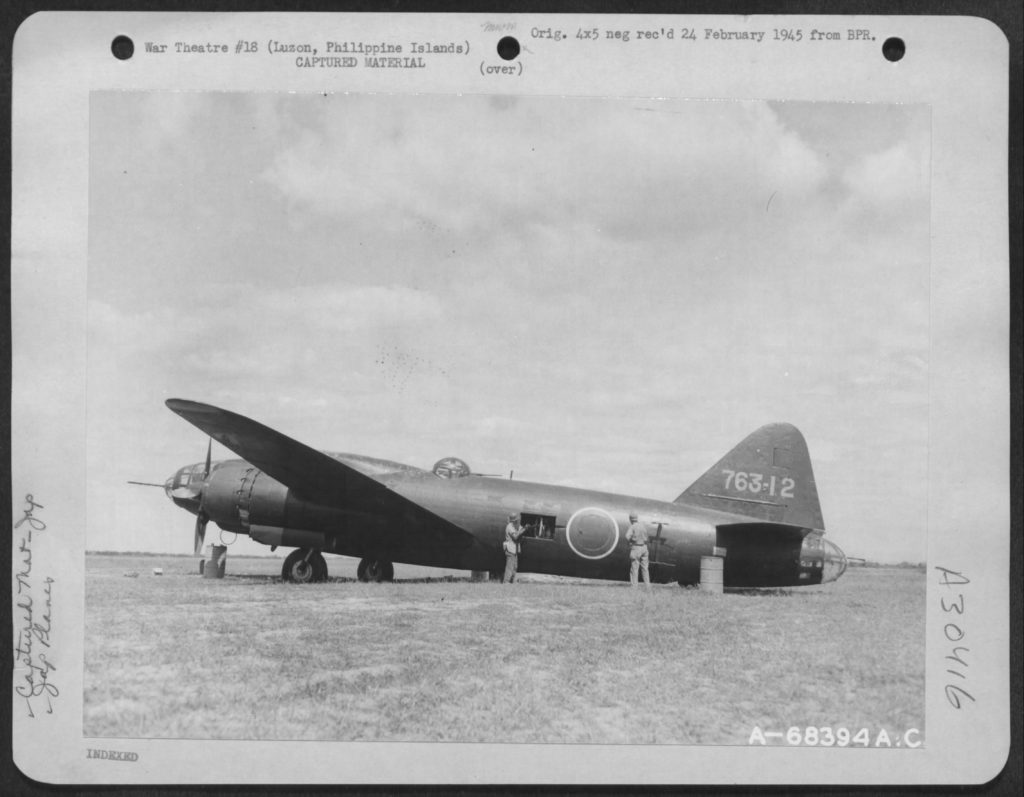 ____________________
This image (68389 AC / A30413) shows Sergeant Willis examining the port Type 99 cannon.  (Is he handling an ammunition magazine?)  Notable details include what appears to be a flash suppressor at the cannon's muzzle; the cylindrical notch at the rear of the waist position for stowage of the cannon (via the flash suppressor); the circular fuselage entry hatch upon and around which the Hinomaru has been painted; the mounting struts for the radar antenna.  Also, notice the rectangular data plate painted below the port stabilizer.
____________________
The last of the three pictures (68390 AC / A 30414) of Sergeant Willis and Betty 763-12 shows fascinating aspects of the plane and its equipment.  Enlargement of the data plate shows the serial number to be "2134".  Though very faint in the photo, someone has hastily scrawled the warning "BOOBY TRAPPED!  DO NOT (rest of the text is illegible, but the meaning is clear)…" below the horizontal stabilizer.  The cut-away modification to the tail gun position described and sketched by the POW is very obvious.  Finally, the life raft.  The photo caption states that Sergeant Willis is, "…examin[ing] the novel life raft with which the plane is equipped.  He is using the bellows which inflate the boat.  The raft is made of light rubberized material [and] is propelled with wooden paddles."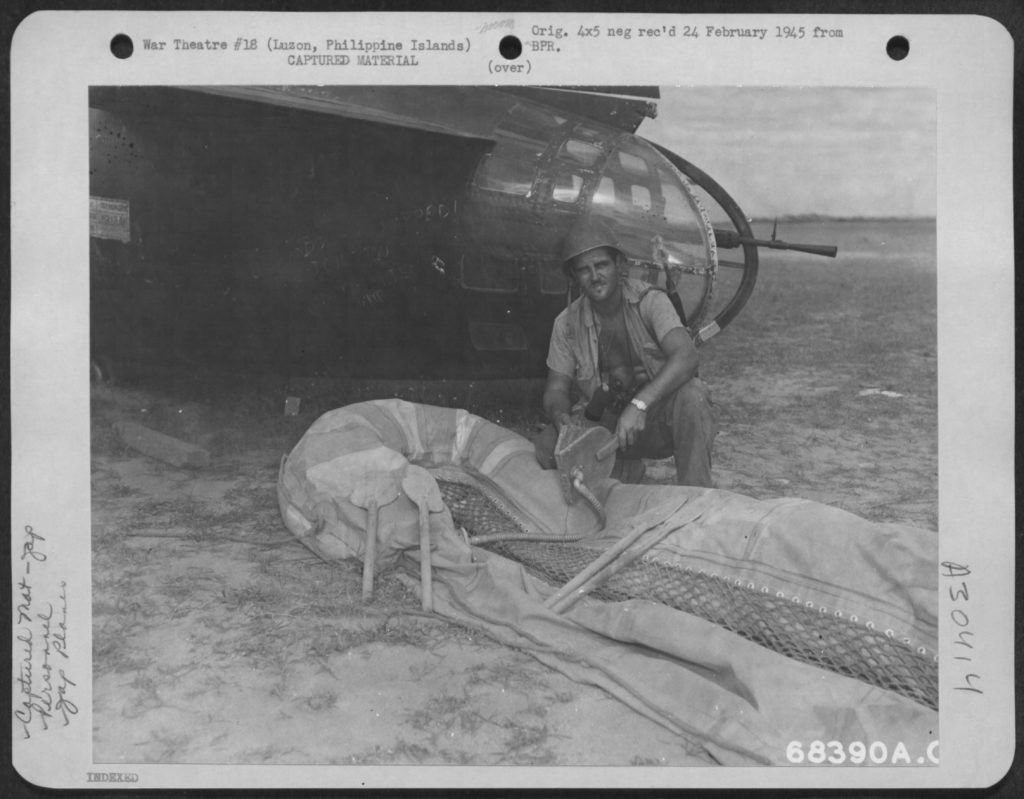 __________________
The Rising Decals company (Czech Republic), manufacturer of aftermarket decals and detail sets for Japanese aircraft of the Second World War, has produced an update kit for creating 763-12 based on Hasegawa's 1/72 G4M2.  This image shows the components of the update set, further illustrating the configuration and mounting of the Type 3 Ku-6 antennas.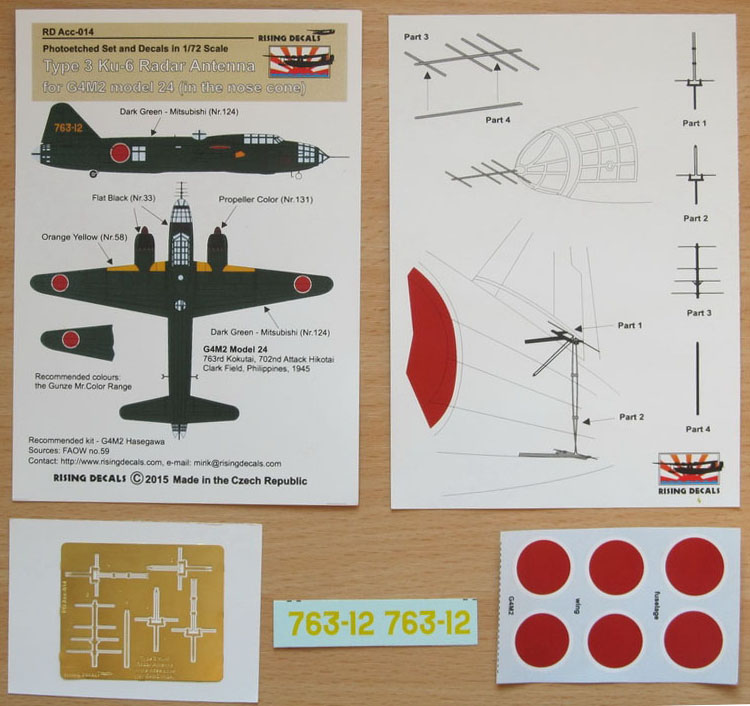 ____________________
This image, from the website of the National Air and Space Museum, shows a Type 3 Ku-6 (Model 4) radar set and associated connecting cables.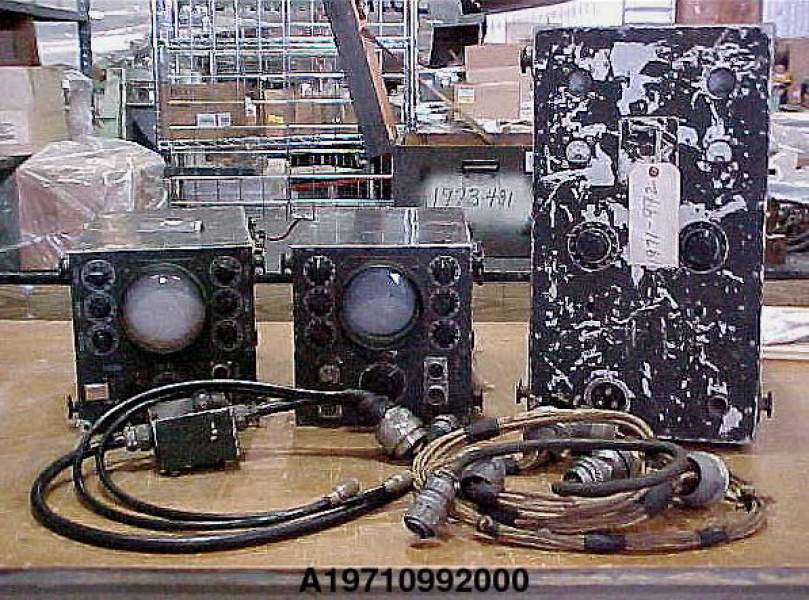 ____________________
Here are three views of the cathode ray tube utilized in the Ku-6 Radar, also from the National Air and Space Museum website. 
ATIS Interrogation Report 357, from Records of the War Department General and Special Staffs, Assistant Chief of Staff (G-2) Intelligence Library Project File, ATIS Interrogation Reports.  (NARA Records Group 165, Box 325, Entry 79, Shelf Location 390/33/27/5-6/7) 
Green, William, Famous Bombers of the Second World War, Doubleday & Company, Inc., Garden City, N.Y., 1960 (Mitsubishi G4M Type I, pp. 52-58)
Green, William, Famous Fighters of the Second World War, Hanover House, New York, N.Y., 1958 (Kawashini Shiden pp. 111-116)
Hickey, Lawrence H., Warpath Across the Pacific – The Illustrated History of the 345th Bombardment Group During World War II, International Research and Publishing Corporation, Boulder, Co., 1984 (751st Naval Air Group G4M bombers, pp. 78-79)
Thorpe, Donald W., Japanese Naval Air Force Camouflage and Markings – World War II, Aero Publishers, Inc., Fallbrook, Ca., 1977
National Diet Library of Japan (English-language version), at http://iss.ndl.go.jp/?locale=en&ar=4e1f
Index to all ATIS Interrogation Reports, with English-Langauge descriptions, at National Diet Library of Japan (click hypertext)