Here's an advertisement from January 18, 1945 for a company that – refreshingly! – exists even today:  American Car and Foundry. 
Formed and incorporated in Jew Jersey in 1899, the firm is located today in Milton, Pennsylvania.  According to the Wikipedia entry, the manufacturing facility, "…is capable of manufacturing railcars and all related railcar components.  The plant is capable of producing pressure vessels in sizes 18,000–61,000 gwc, including propane tanks, compressed gas storage, LPG storage, and all related components, including heads.  The plant, covering 48 acres, provides 500,000 square feet of covered work area and seven miles of storage tracks." 
(How nice to know that something physical is still manufactured in the United States!)
Regarding the advertisement itself, the illustration is a very nice example of graphic art.  Every major product manufactured by the company is presented, from (primarily) railroad cars, to naval vessels, to shells or bombs, and (it looks like…) tires, with every manufactured item "leading" back to a point on a simplified map showing the location of its relevant manufacturing facility.  Above all, the use of light and shadow is quite striking.  
The full text of the ad is presented below.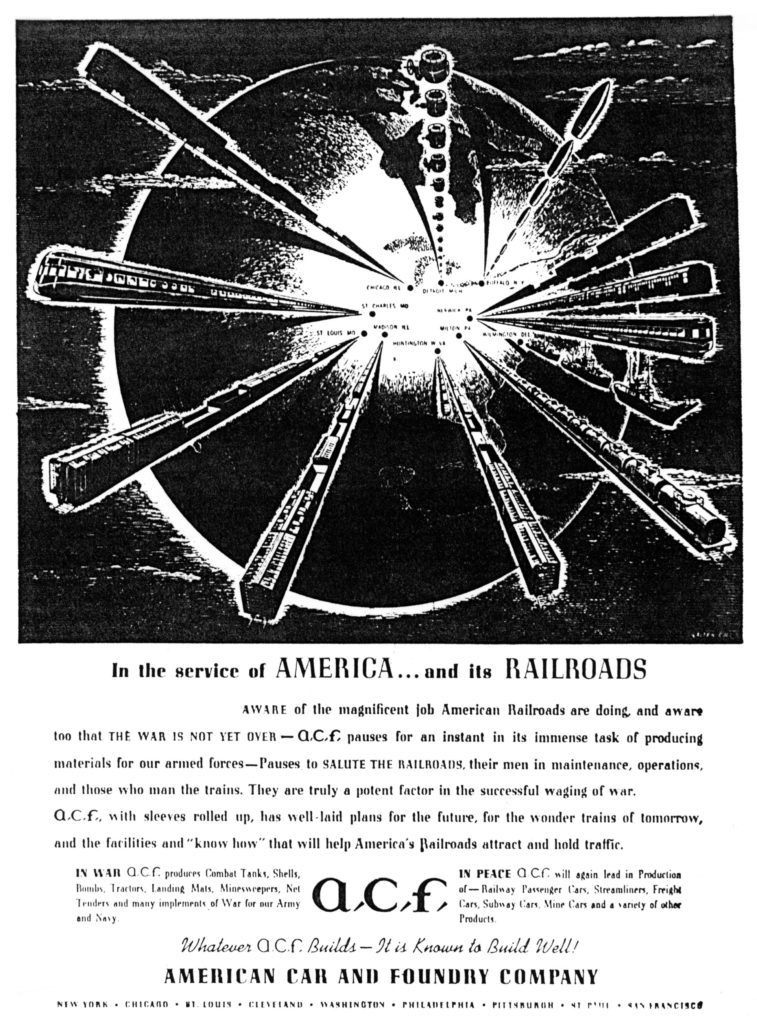 In the service of AMERICA … and its RAILROADS
AWARE of the magnificent job American Railroads are doing, and aware too that THE WAR IS NOT YET OVER – A.C.F. pauses for an instant in its immense task of producing materials for our armed forces –  Pauses to SALUTE THE RAILROADS, their men in maintenance, operations, and those who man the trains.  They are truly a potent factor in the successful waging of war.
A.C.F., with sleeves rolled up, has well-laid plans for the future, for the wonder trains of tomorrow, and the facilities and "know how" that will help American's Railroads attract and hold traffic.
IN WAR A.C.F. produces Combat Tanks, Shells, Bombs, Tractors, Landing Mats, Minesweepers, Net Tenders and many implements of War for our Army and Navy.
IN PEACE A.C.F. will again lead in Production of – Railway Passenger Cars, Streamliners, Freight Cars, Subway Cars, Mine Cars and a variety of other Products.
Whatever A.C.F. Builds – It is Known to Build Well!

References
ACF Industries, LLC, at http://acfindustries.com/
American Car and Foundry, at https://en.wikipedia.org/wiki/American_Car_and_Foundry_Company