This 1944 RCA advertisement for television features an interesting combination of advocacy, sociological and technical prediction, and industry promotion. 
Like the prior post presenting GE's 1945 advertisement about television, this earlier example explains the future uses of television within the context of education ("courses in home-making, hobbies like gardening, photography, wood-working, golf") culture ("drama, musical shows, opera, ballet"), and large-scale future employment for returning veterans. 
All valid and true, at least in the mindset of 1944. 
All valid and true, at least until those nations (both of the – then – Allies and Axis) which had been physically devastated by the war eventually rose to levels of industrial and intellectual capability which would challenge the technical and industrial preeminence of the United States. 
All valid and true, until television, as well as other social and technological developments, would change – as much as reflect – the nature of American culture and society, and that of other countries, as well.
In terms of promotion of those firms involved in or contributing to the manufacture of televisions, the advertisement lists 43 different firms.  Of the 43, how many exist today, either independently, or as subsidiaries?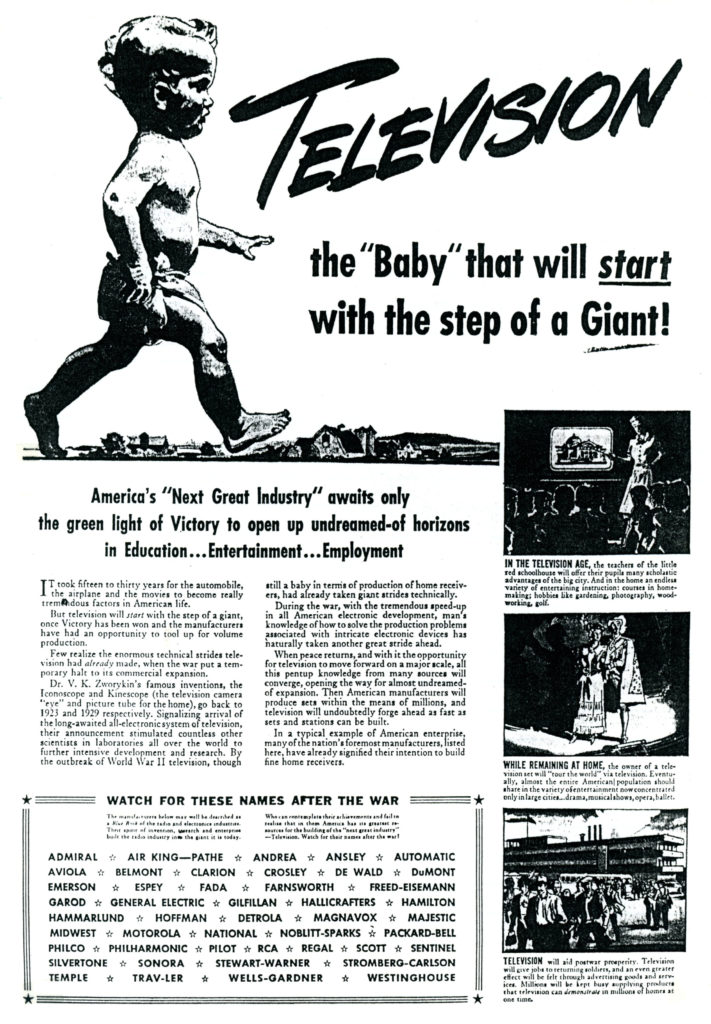 It took fifteen to thirty years for the automobile, the airplane and the movies to become really tremendous factors in American life.
But television will start with the step of a giant, once Victory has been won and the manufacturers have had the opportunity to tool up for volume production.
Few realize the enormous technical strides television has already made, when the war put a temporary halt to its commercial expansion.
Dr. V.K. Zworykin's famous inventions, the Iconoscope and Kinescope (the television camera "eye" and picture tube for the home), go back to 1923 and 1929 respectively.  Signalizing arrival of the long-awaited all-electronic systems of television, their announcement stimulated countless other scientists in laboratories all over the world to further intensive development and research.  By the outbreak of World War II television, though still a baby in terms of production of home receivers, had already taken giant strides technically.
During the war, with the tremendous speed-up in all American electronic development, man's knowledge of how to solve the production problems associated with intricate electronic devices has naturally taken another great stride ahead.
When peace returns, and with it the opportunity for television to move forward on a larger scale, all this pentup knowledge from many sources will converge, opening the way for almost undreamed-of expansion.  Then American manufacturers will produce sets within the means of millions, and television will undoubtedly forge ahead as fast as sets and stations can be built.
In a typical example of American enterprise, many of the nation's foremost manufacturers, listed here, have already signified their intention to build fine home receivers.
IN THE TELEVISION AGE, the teachers of the little red schoolhouse will offer their pupils many scholastic advantages of the big city.  And in the homes an endless variety of entertaining instruction: courses in home-making, hobbies like gardening, photography, wood-working, golf.
WHILE REMAINING AT HOME, the owner of a television set will "tour the world" via television.  Eventually, almost the entire American population should share in the variety of entertainment now concentrated only in large cities…drama, musical shows, opera, ballet.
TELEVISION will aid postwar prosperity.  Television will give jobs to returning soldiers, and an even greater effect will be felt through advertising goods and services.  Millions will be kept busy supplying products that television can demonstrate in millions of homes at one time.
WATCH FOR THESE NAMES AFTER THE WAR
The manufacturers below may well be described as a Blue Book of the radio and electronics industries.  Their spirit of invention, research and enterprise built the radio industry into the giant it is today.  Who can contemplate their achievements and fail to realize that in them America has its greatest resources for the building of the "next great industry" – Television.  Watch for their names after the war!
ADMIRAL
AIR KING – PATHE
ANDREA
ANSLEY
AUTOMATIC
AVIOLA
BELMONT
CLARION
CROSLEY
DE WALD
DuMONT
EMERSON
ESPEY
FADA
FARNSWORTH
FREED-EISEMANN
GAROD
GENERAL ELECTRIC
GILFILLAN
HALLICRAFTERS
HAMILTON
HAMMARLUND
HOFFMAN
DETROLA
MAGNAVOX
MAJESTIC
MIDWEST
MOTOROLA
NATIONAL
NOBLITT-SPARKS
PACKARD-BELL
PHILCO
PHILHARMONIC
PILOT
RCA
REGAL
SCOTT
SENTINEL
SILVERTONE
SONORA
STEWART-WARNER
STROMBERG-CARLSON
TEMPLE
TRAV-LER
WELLS-GARDNER
WESTINGHOUSE

References
Standage, Tom, Writing on the Wall: Social Media – The First 2,000 Years, Bloomsbury Publishing, 2014
Trimble, David C., Television: Airwaves Church of the Future, The Living Church, V 110, N 1, Jan. 7, 1945