Here are two advertisements in one:  Pfanstiehl phonograph needles, and, Davega Department Stores.
The Davega stores were a New York metropolitan area chain that sold consumer durables, appliances, sporting goods, and apparel.  The company was founded in 1879, expanded to 27 stores by 1954, and survived until April of 1963, when it declared bankruptcy. 
The advertisement lists nine stores at the following locations: New York: The Hotel Commodore (111 East 42nd Street); Times Square; the Empire State Building; "Downtown"; Brooklyn, and the Bronx.  New Jersey: Newark, Paterson, and Jersey City.  
The phrase "phonograph needles" conjures an era that may have little resonance today (ahem…unintended pun there….) given the advent and pervasiveness of digital technology, but which is an example of the rapidity of technological and cultural change. 
I don't know if the company still exists as an independent entity, but its products are still available through retailers of specialized electronic and audio gear, such as Turntable Needles.com, and, Jackstuff.com, the latter having an especially detailed descriptive web page covering Pfanstiehl's phonograph needles.
So, what comes next in the world of audio technology?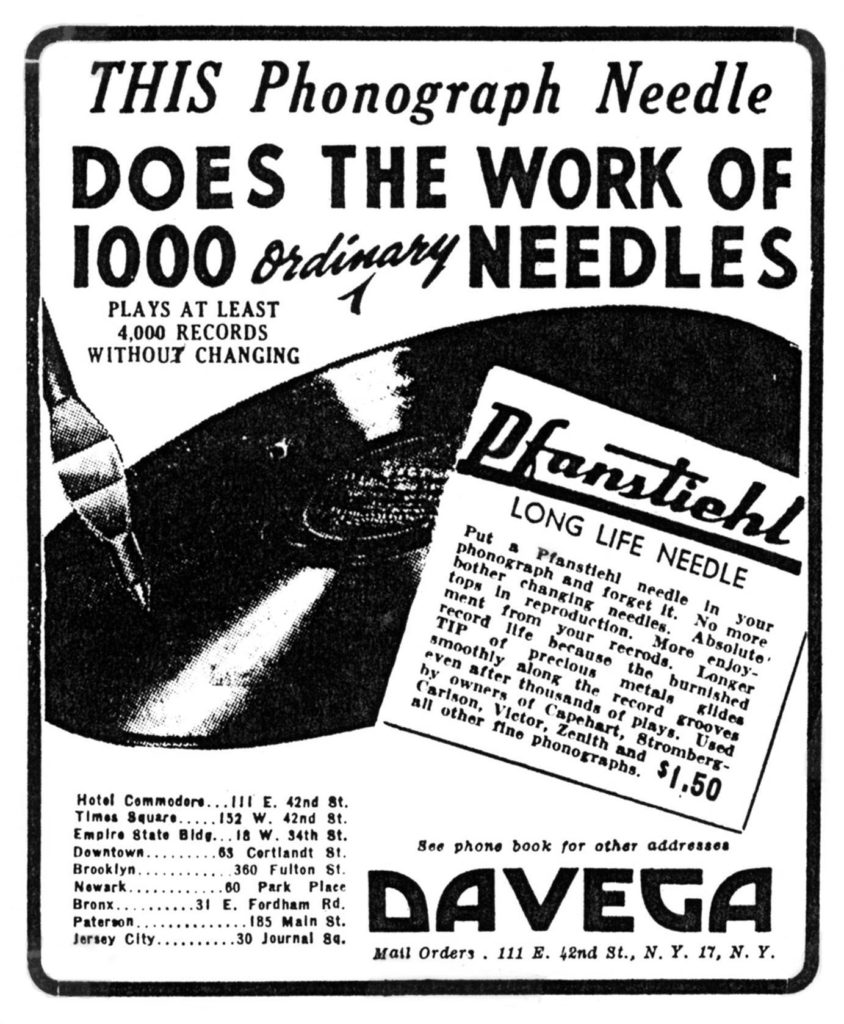 Reference
Davega Stores (wikipedia), at https://en.wikipedia.org/wiki/Davega_Stores.