In September of 2016, this blog commenced with a post about Luftgaukommando Reports – documents created by the Germans to record information about aircraft and aircrews of the United States and British Commonwealth air forces shot down over German-occupied Europe and Germany itself, during the Second World War.  Also known as KU (Kampflugzeug Unterlagen – "Downed Allied Aircraft") Reports, these documents are part of Records Group 242 (Collection of Foreign Records Seized, 1675-1983) in the United States National Archives. 
By nature, Luftgaukommando Reports comprise records compiled by the Germans, and not uncommonly, include documents (personal and otherwise) and other items, such as V-Mail and hand-written correspondence, carried or worn (dog tags) by air crewmen. 
That "first" post (a multitude of keystrokes ago…!) focused on Luftgaukommando Report J 2525, which covers "Chicago's Own", a P-51D Mustang (44-41010) of the 353rd Fighter Squadron of the 354th Fighter Group, which was piloted by Captain Gordon T. McEachron, and served to introduce and describe general aspects of Luftgaukommando Reports. 
What makes Luftgaukommando Report J 2525 noteworthy is the presence of several excellent photographs of the downed and mostly intact – albeit no longer quite flyable! – Mustang. 
Report J2525 is one of the very few Luftgaukommando Reports containing photographs.  Sometimes, like the pictures of Chicago's Own, such images suggest the features, components, and design aspects of American warplanes that particularly drew the attention of German investigators and technical analysts.

In a large sense, perhaps an apt word for such images is "evocative".  It's one thing to read "about" the loss of an American military plane in a book, article, or Missing Air Crew Report.  It's quite another to actually see and hold an image of what that aircraft looked like, to those who actually flew within it over seven decades ago. 
____________________
This post presents another series of German photographs of a downed American warplane:  An entirely intact yet rather broken 8th Air Force B-24 Liberator – ironically nicknamed "Tell Me More" – which was examined by the Germans after force-landing in Holland on April 29, 1944.  The 15 images presented here, in Luftgaukommando Report KU 1679, represent the second highest total quantity of images found in any of the Luftgaukommando Reports (whether J, KU, or ME Reports) I've thus far examined.  (The largest quantity of photographs in a Luftgaukommando Report– 19 – hopefully the subject of a future post!)
"Tell Me More", a B-24H 41-28754 of the 787th Bomb Squadron, 466th Bomb Group, 8th Air Force, squadron code 6L * N, was piloted by 1 Lt. Carl E. Hitchcock, and was lost during the Group's mission to Berlin on April 29, 1944.  Its loss is covered in MACR 4447.  The 466th lost one other Liberator that day (41-29399, "T9 * D", of the 784th Bomb Squadron, covered in KU 1681) while the 8th Air Force lost 61 other B-17s and B-24s; the 15th Air Force 4 B-24s. 
In human costs, approximately six hundred and seventy men.
According to tables of B-24 Liberator serial numbers in Allan Blue's The B-24 Liberator (pp. 195 and 202), Tell Me More was a B-24H-1DT, and – going by serial numbers alone, rather than calendar date of manufacture and delivery – was the very first "H" version of all 3,100 B-24H Liberators manufactured. 
The crew list from the MACR is shown below:
Neither the MACR nor the KU Report contain information describing the actual cause of the aircraft's loss.  The KU Report simply states that the plane, "made an emergency landing 6 km east of Apeldoorn", also vaguely mentioning "Liberator Shot Down".  Regardless, as can be seen from the list in the MACR and KU Report, the entire crew of 10 was eventually captured.  
Fortunately, all survived the war. 
They were:
Pilot – Hitchcock, Carl Edward, 1 Lt., 0-664597
Mrs. Mary Hitchcock (mother), North Bradley St., McKinney, Tx.
Born 1/17/15, Tx.; Died 9/23/95
Buried Sunset Memorial Park, San Antonio, Tx. (https://www.findagrave.com/)
POW Stalag 7A (Moosburg)
Captured by 6/22/44
Co-Pilot – Young, Lloyd G., 2 Lt., 0-680791
Mrs. Mary Young (mother), Park View Ave., Knoxville, Tn.
Born 9/25/18, Smith County, Tn.
POW Stalag Luft 3 (Sagan)
Captured May 3, 1944, at Vorort v Tiel, by Officer Heitzwebel
Navigator – Willson, Robert Edwin, 2 Lt., 0-698245
Mrs. Frances (Gardner) Willson (wife), 3026 Lebanon, El Paso, Tx.
Born 9/9/20, Sherman, Tx.; Died 2/3/08
Buried Dallas – Fort Worth National Cemetery, Dallas, Tx.
On tombstone – "Ex-POW – It is well with my soul."  (https://www.findagrave.com/)
POW – Camp Unknown
Captured by 6/22/44
Robert Willson's tombstone, photographed by FindAGrave contributor William Nance, is shown below: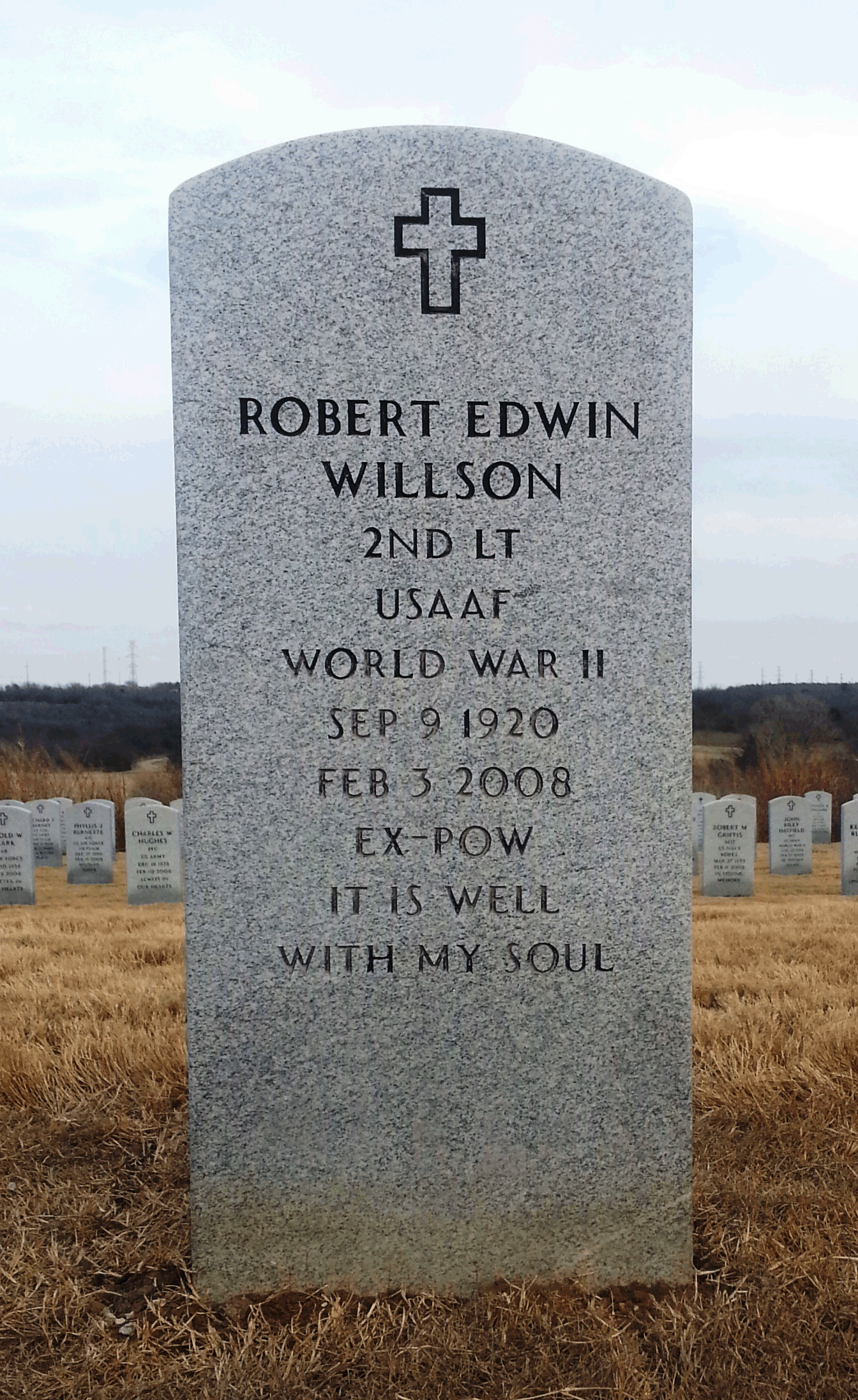 Bombardier – Bochicchio, Vito Joseph, 2 Lt., 0-682047
Mrs. Margaret Bochicchio (mother), West 21st St., New York, N.Y.
Born 1/1/17, New York, N.Y.; Died 3/23/10
Buried Calverton National Cemetery, Calverton, N.Y. (https://www.findagrave.com/)
POW Stalag Luft 3 (Sagan)
Captured May 3, 1944, at Vorort v Tiel, by Officer Heitzwebel
Flight Engineer – DiManno, Carmine Gerard, T/Sgt., 31276739
Mrs. Mary Dimanno (mother), 19 Orchard St., Hartford, Ct.
Born 7/7/23; Died 5/29/77
Buried East Cemetery, Manchester, Ct. (https://www.findagrave.com/)
POW Stalag Luft 4 (Gross-Tychow)
Probably Captured April 29, 1944, near Apeldoorn
Radio Operator – McCue, Thomas J. ("Thomas Francis"?), S/Sgt., 12188732
Mrs. Lee V. McCue (mother), 476 Dean St., Brooklyn, N.Y.
POW Stalag Luft 4 (Gross-Tychow)
Captured April 29, 1944, near Apeldoorn
Gunner (Ball Turret) – Browne, Charles Graham, S/Sgt., 19116027
Mrs. Agnes G. Browne (mother), East South Mariposa St., Glendale, Ca.
Born 12/21/19, Twin Falls, Id.
POW Stalag Luft 3 (Sagan)
Captured April 29, 1944, near Apeldoorn
Gunner (Right Waist) – Smith, David Leon, S/Sgt., 18213749
Mrs. Mary Smith (mother), General Delivery, New Franklin, Mo.
POW Stalag Luft 1 (Barth)
Captured by January 5, 1945
Gunner (Left Waist) – Lugosi, Alex Paul, S/Sgt., 36631214
Mrs. Anna Lugosi (mother), 12632 Wallace St., Chicago, Il.
Born 11/11/21, Chicago, Il.
POW – Camp Unknown (numerical indicator is "0")
Captured April 29, 1944, near Apeldoorn
Gunner (Tail) – Dorrian, Thomas George, S/Sgt., 12121740
Mr. James Dorrian (father), 2541 99th St., East Elmhurst, Long Island, N.Y.
Born New York, N.Y.
POW Stalag Luft 3 (Sagan)
Captured April 29, 1944, near Apeldoorn
____________________
The crew list and other documents in the KU Report imply that the crew split up after landing – the enlisted men in one group, and the four officers in two pairs – in an attempt to evade capture.  This is suggested by their dates of capture, which are listed in the KU Report as follows:
Captured on April 29, at Apeldoorn:
T/Sgt. Carmine G. DiManno (flight engineer)
S/Sgt. Thomas J. McCue (Radio Operator)
S/Sgt. Charles G. Browne (Ball Turret Gunner)
S/Sgt. Alex P. Lugosi (Left Waist Gunner)
S/Sgt. Thomas G. Dorrian (Tail Gunner)
Captured May 3, at "Vorort v Tiel", by an "Officer Heitzwebel":
2 Lt. Lloyd G. Young (Co-Pilot)
2 Lt. Vito J. Bochicchio (Bombardier)
Captured by June 22, at an unspecified location:
1 Lt. Carl E. Hitchcock (Pilot)
2 Lt. Robert E. Willson (Navigator)
Managed to evade until early January, 1945; location of capture unspecified:
S/Sgt. David L. Smith (Right Waist Gunner)
____________________
The specific location of the aircraft's landing is presented as follows:
1) The American Air Museum website lists the plane as having crash-landed at Apeldoorn.
http://www.americanairmuseum.com/aircraft/804
2) The Eighth Air Force Historical Society lists the plane as having landed at Wilp-Achterhoek, in Gelderland.
3) The KU Report gives two locations for the plane's loss:
a) 6 kilometers east of Apeldoorn
b) 4 kilometers south of Touge
Touge is east-northeast, and Wilp-Achterhoek directly east, of the geographic center of Apeldoorn.  Based on this information, I've created three Google maps at successively larger scales, "zooming in" on the location which seems (seems!) to be the best composite of the above-reported locations.  This is denoted by the north-south oriented red ovals superimposed on the map, just southwest of Wilp-Achterhoek, and repeated on the Google Earth view of the same locale. 
These maps and the aerial photograph are presented below: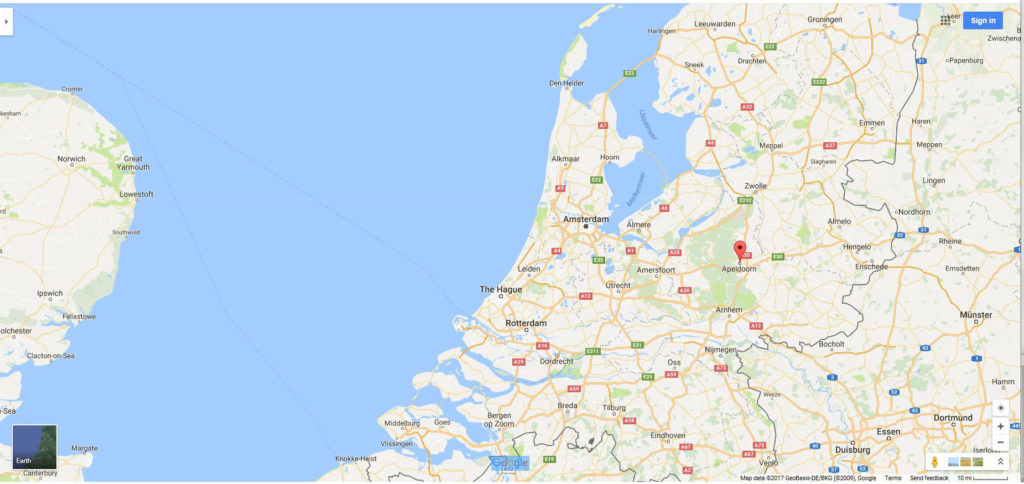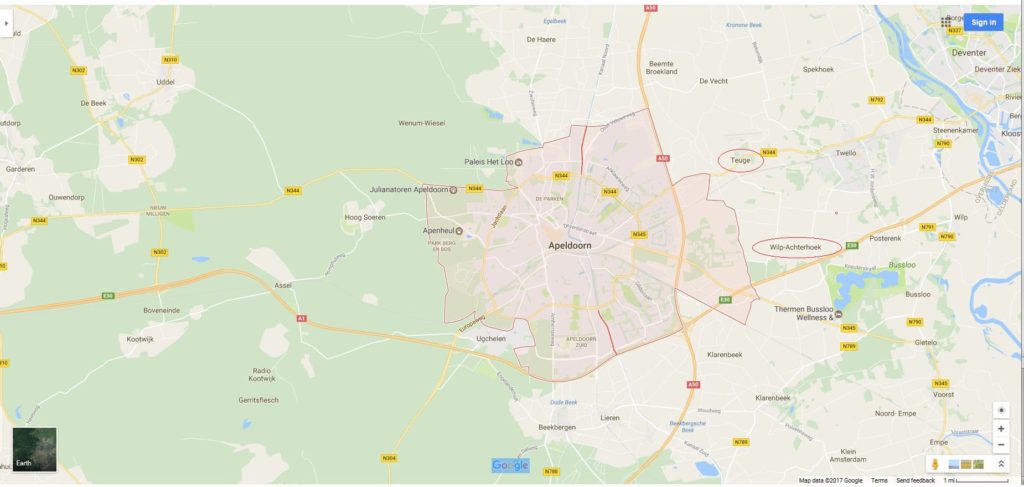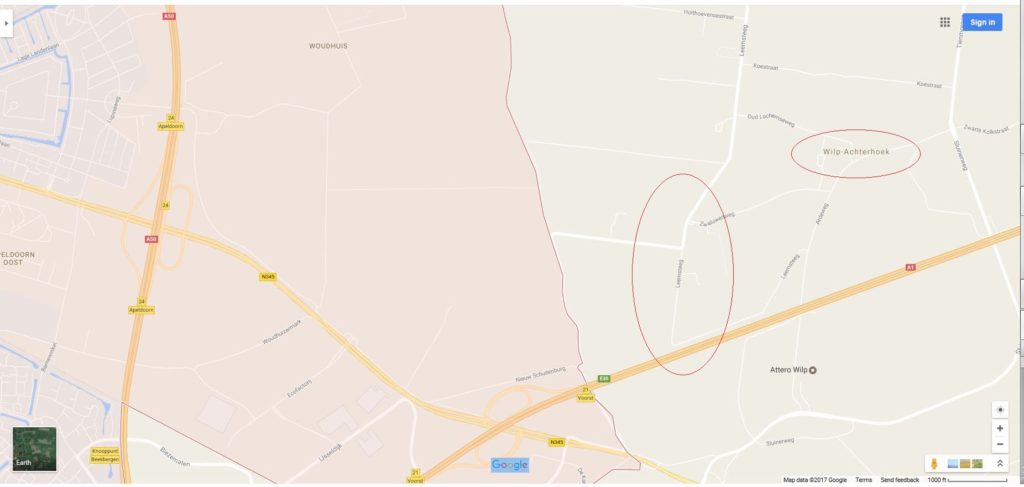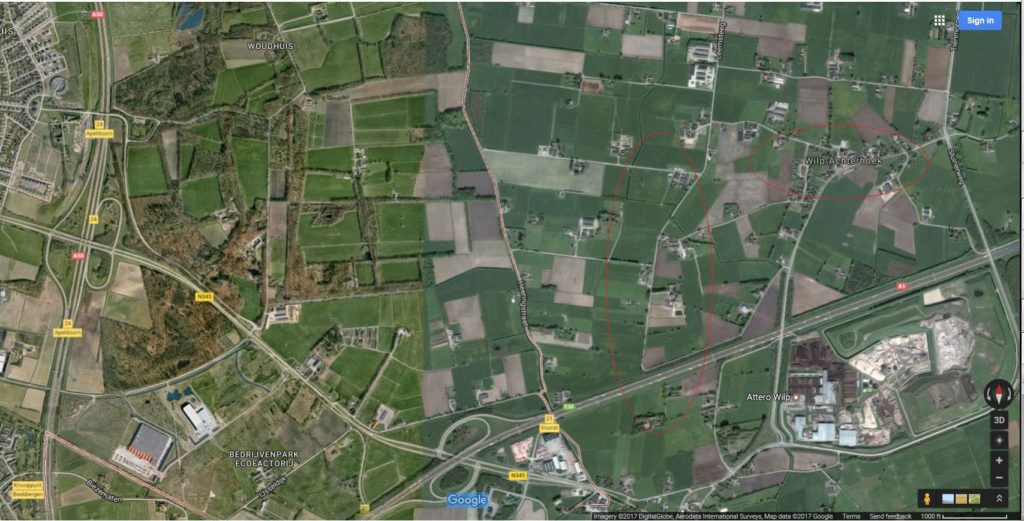 Here is an image of Tell Me More from the American Air Museum website, showing the relatively intact and rather bent B-24 resting on its forward fuselage, on a vacant field.  The American Air Museum website includes two other images of the plane, one showing what seems to have been a very hastily applied individual aircraft letter – "N" – on the lower port fin.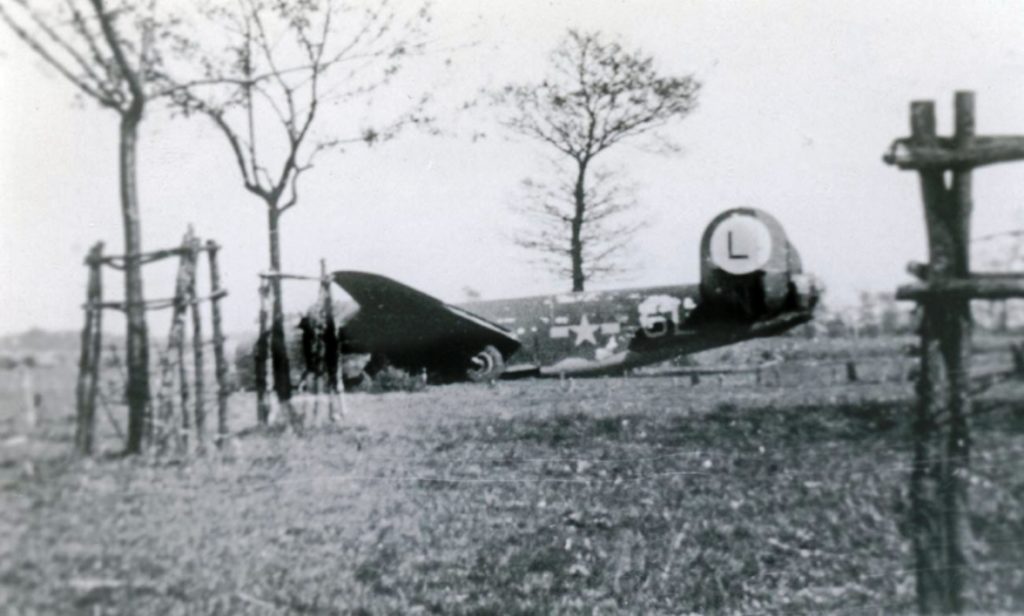 ____________________
But, what about the images in the KU Report?  To be told more of Tell Me More, refer to the next post…